Capcom Apologizes For Resident Evil Revelations 2's Missing Feature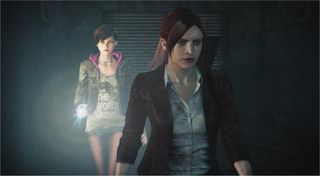 There's been a recent update on the split-screen situation involving Resident Evil Revelations 2 for PC: Capcom has apologized. The news follows on a lot of controversial uproar over the lack of split-screen, offline co-op for the PC release of Revelations 2 and Capcom's initial dismissive response about the matter.
PC Gamer has updated the article about the event, where Capcom's new tune now sings something along the lines of humility and a route to rectify the problem. Originally, when gamers complained about Revelations 2 lacking offline co-op (and even more than that, online co-op) for the PC version, Capcom told Eurogamer that the reason it was missing was because...
This didn't set well with gamers because prior to release the Steam page for Resident Evil Revelations 2 promised co-op and multiplayer. Additionally, press releases and the official website for the game also indicated that there would be local, offline co-op for the title. There was no mention that the feature would not be available for PC gamers.
The omission of a feature after gamers purchased the game sent a ripple of rage through the community, as some consumers began to complain that this was false advertising.
The fever pitch over this issue caused Capcom to renege on their previous stance and to come forward with an apology about advertising a feature that didn't make the cut, recently posting on the Steam Community thread with a message saying...
Each episode of Resident Evil Revelations may only be $5.99 but there happened to be a sizable enough audience who purchased the game for the co-op feature because that's what was advertised. The game's current review rating on Steam is sitting at "Mixed", due to a ton of negative reviews, many of which center around the game's missing co-op.
This isn't the first time that Capcom has tussled with consumer expectations. There was also the issue with Street Fighter X Tekken, which also ran into trouble with advertised features that turned out to be disc-locked content. The scenario frustrated a lot of gamers when it was discovered that more than $100 worth of content was locked on a $60 disc and required extra, real-life payments to access.
The disc-locked content issue also popped up briefly for Resident Evil 6, but then after Capcom scaled back on the practice.
Resident Evil Revelations 2: Episode One: Penal Colony is available right now for home consoles and PC.
Staff Writer at CinemaBlend.
Your Daily Blend of Entertainment News
Thank you for signing up to CinemaBlend. You will receive a verification email shortly.
There was a problem. Please refresh the page and try again.