Dragon Ball: Xenoverse, Resident Evil Revelations 2 Headline Weekly PlayStation Releases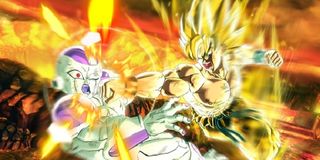 Are you ready for zombies, Super Saiyans, shadowy spiders and jousting underwater creatures? You're damn right you are, and that's exactly what you're getting this week as another eclectic mix of new titles make their way to the PlayStation family of consoles.
Set to launch tomorrow afternoon with the weekly PSN update, there's a little something for every PlayStation console this week, including that huge PlayStation Vita sale we were talking about earlier. Along with those 38 discounted games, you can expect a little something form the Resident Evil, Dragon Ball and Dynasty Warriors camp this week, as well as a handful of new indie titles, a new downloadable fighting game and even a PSone classic.
We'll kick things off this week with one of my most anticipated games, Dragon Ball Z: Xenoverse. This latest entry in the long-running game series features a 3D, free-roaming fighting engine built from the ground up, including a hub world where you can interact with other players, co-op missions, competitive online and a story that lets you go back in time and relive classic moments from the wildly popular manga/anime. I haven't played a DBZ game in over a decade and, after watching the Japanese version of Xenoverse streamed for hours on end, this looks like the game to finally get me back into the fight.
Also arriving this week is another big entry in the Resident Evil series, Revelations 2. The first in a game built on weekly installations, get ready to fight zombies once again as a new tale of horror unfolds on the PlayStation 4 and PS3. Considering how well the Resident Evil HD remake did in January, I imagine this one will be another huge hit for Capcom.
Also landing on the PS4 this week is Dynasty Warriors 8: Empires, which utilizes the series' classic insane fighting mixed with more strategic gameplay between chapters. Limbo also arrives on the PS4 this week, as well as PS4/PS3 titles Rugby 15 and Starwhal, a game all about flopping around and stabbing your friends with your majestic horn.
If you're looking for new games on the Vita, Desert Ashes and the horribly named htoL#NiQ-The Firefly Diary- will be available alongside Hyperdevotion Noire: Goddess Black Heart.
Finally, fighting fans can look forward to a downloadable version of Under Night In-Birth Exe: Late on the PS3, alongside the PSone Classic, Xevious 3D/G+.
Expect all of that to hit PSN Tuesday afternoon. In the meantime, feel free to check out the original announcement for more details on each of these games.