Street Fighter X Tekken DLC Delayed For Steam, Available For GFWL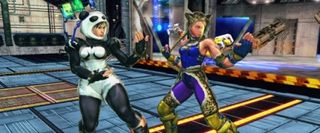 The Street Fighter X Tekken disc-locked content that got Capcom in a wee-bit of trouble earlier this year is now available for gamers who purchase their games from Games For Windows Live. The DLC for Steam users has hit a bit of a hang-up and will be made available shortly, according to a blog post on the official Capcom board.
If you don't mind being nickel and dimed the disc-locked content was ripe with material that Capcom has decided to egg out in partial offerings after being caught red-handed. The DLC in full contains 56 color customization options, 12 characters, two-alternate outfits for each fighter on the roster (including fighters who are disc-locked), preset combos and a buttload of Gems.
The DLC for console owners won't be unlocking until July 31st, but if you own the lesser, inferior PC version, which was broken for the longest, you'll be able to pick up some of the DLC from GFWL right now.
It's amazing that PC gamers are not only hit with useless, broken DRM such as Games for Windows Live, but they also have to deal with broken ports, bad patches and disc-locked content that's stored on servers instead of the disc. That deserves a nod and a slow clap from resident marketing trolls.
I'm sure shills getting paid $5.00 to say nice things about Capcom really had their work cut out for them pumping up the PC version of Street Fighter X Tekken, especially trying to get people to buy that garbage. Yikes.
You can look for the DLC to become available on Steam sometime soon after they get it certified and fixed or you can ride the devil's road and pick up the game and the DLC for Games for Windows Live, if you don't mind using a pirated version to get it to work correctly.
Staff Writer at CinemaBlend.
Your Daily Blend of Entertainment News
Thank you for signing up to CinemaBlend. You will receive a verification email shortly.
There was a problem. Please refresh the page and try again.