Chivalry: Medieval Warfare Coming To Xbox 360, PS3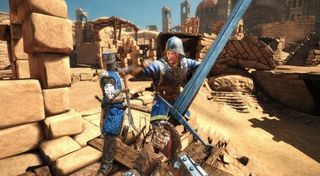 Activision seems to be taking a page out of Midnight City and Devolver Digital's playbook; scouring the game space for a mid-budget hard-hitter. The multi-billion dollar publisher has happened upon Torn Banner Studios' first-person medieval melee title, Chivalry: Medieval Warfare.
The name of the game fits in perfectly with the rest of Activision's Call of Duty titles and the fact that it's first-person just makes it all the more fitting. Now I'm sure a lot of people are wondering exactly why Activision would go out of their way to re-distribute a PC game on the Xbox 360 and PS3. You have to admit that it seems terribly odd given that the company is known to only gun for huge, big sellers.
Well, turns out that Chivalry is a big seller. The game has sold more than two-million units since it was first released back on October 12th, 2012. Hold on, let me further clarify that: This game is a multi-million selling title... on PC.
That's right, PC gamers came out of the woodwork to support the mid-budget, Unreal Engine-powered title. Thanks to a healthy grassroots marketing campaign and plenty of comparisons and competition with Fatshark Studios and Paradox Interactive's War of the Roses – another first-person, medieval war title that valued simulation war mechanics over arcade-style gameplay – both games were kept on the minds of gamers throughout the fall season.
Well, Activision wants to get in on the action and they're likely hoping to replicate some of that enthused success that Chivalry captured from PC gamers, only this time they're looking to get the console crowd in on the action.
In celebration of the announcement, Activision and Torn Banner Studios sent out a brief, minute-long promo video that you can check out below.
I can't really find any fault in this action, because it helps broaden the audience to a game that earned a decent reputation by being a generally good game. Widening the scope of its market breadth isn't a bad thing; so long as Torn Banner maintains the rights to their IP they could very well turn Chivalry into a reputable brand. Heck, we could be looking at the next Call of Duty! Who's looking forward to annual medieval, first-person action titles? Captain Tag, Suds McTavish, Specter? Come on, exploding castle walls in slow-motion with thumping bass drops while Eminem and Jay-Z provide a heart-pumping anthem for a game about dark-age terrorism? Billion dollar franchise right there.
Well, before Torn Banner can start counting the dollar bills from eager console gamers, they'll first have to wait until later in the year before purchasing the game. Chivalry is set to launch before 2014 is out. It's likely going to be made available before the holiday season gets underway and starts going full-swing.
You can learn more about the game or pay a visit to the official website to see what a lot of the buzz is about. In case you already have a capable PC and have no desire to engage the 12-player deathmatch game on the Xbox 360 or PS3, you can pick up a digital copy of the title right now from participating digital distributors.
Staff Writer at CinemaBlend.
Your Daily Blend of Entertainment News
Thank you for signing up to CinemaBlend. You will receive a verification email shortly.
There was a problem. Please refresh the page and try again.