These Clues Could Indicate An Upcoming Spider-Man Game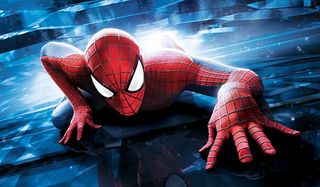 If you've been following the comic book buzz these past few months, you might have noticed that a lot of signs appear to be pointing toward a Spider-Man game being developed by the folks at Sucker Punch. The developer has been pretty tight-lipped on the matter, but it would make a lot of sense if the rumors turned out to be a reality.
The folks over at Gameinformer recently pulled together some of the more convincing points as to why it would make perfect sense for Sucker Punch to make the next Spider-Man game. For starters, pretty much anyone who has ever played one of the inFamous games has likely thought to themselves, "Man, these folks need to make a daggum Spider-Man game." The high-flying, city-crawling antics of that series are just begging to have some web-slinging mixed into the formula.
Aside from the fact that Sucker Punch would be a good fit, it seems likely that someone, at least, will be making a Spidery game soon. The character had an extremely well-received debut in the recent Captain America: Civil War, even if his inclusion seemed less about plot and more about getting the character back on a good track for silver screen portrayals. There's also a Spiderman: Homecoming movie in the works, and we all know how these movies usually seem to come with some sort of a game tie-in.
Back in late April, the biggest clue that a new Spider-Man game was in the works came from a resume. Stuntman and motion capture artist Stephen Oyoung posted his latest project on his resume, which just so happened to be an "untitled Spider-Man PS4 project." A whole bunch of sites picked up on that little tidbit and ran with it, as it seems unlikely a professional would want to lie about his work when looking for the next job.
Whether or not that PS4 exclusivity was accurate, it would make sense that a traditionally exclusive studio like Sucker Punch would be tapped, especially considering their success with inFamous. Then comes a job posting from the company claiming they need people to work on a "spectacular" new project. As the original story points out, that's a term that's frequently paired with the spandex-wearing wall-crawler.
The final piece of "evidence" feels more like a nerd being a proper nerd and less like proof of anything, however. Apparently Sucker Punch animation director Billy Harper tweeted over the weekend that they were seeing Civil War for the second time "cuz…reasons!" Sure, they could be doing homework, or they could be going to see a great movie a second time because it was that damn good.
So, what do you think, readers? Is Sucker Punch working on a Spider-Man game or are we practicing a bit too much wishful thinking? Let us know in the comments below.
Staff Writer for CinemaBlend.
Your Daily Blend of Entertainment News
Thank you for signing up to CinemaBlend. You will receive a verification email shortly.
There was a problem. Please refresh the page and try again.