College Hoops 2K9 Cancelled - EA's Fault?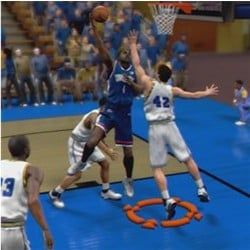 2K Sports has canceled College Hoops 2K9, the latest title in the college basketball series they started in 2002. The cancellation comes after negotiations soured between 2K Sports and The Collegiate Licensing Company, the company who owns the license to NCAA basketball and other sports.
Take-Two Interactive, the parent company of 2K, told Kotaku that they "decided not to continue negotiations with the CLC for the license for its top-rated College Hoops franchise." The rep added that "given our disciplined approach to the business, we do not believe the current discussions would result in an acceptable outcome." College Hoops 2K9 would have been released next November. Now the entire fate of the series is in jeopardy.
While the exact reason the negotiations broke down is unknown, it's possible EA Sports was responsible. EA and 2K have been warring for years over dominance of the sports video game market and the best weapon in their arsenal has been the exclusive rights agreement, contract that gives a developer the sole right to produce games with a particular license. For example, ever since EA Sports signed an exclusive deal with the NFL and its Players' Union in 2004, no other developer has been permitted to make a video game based on the NFL. In that case, it caused the end of 2K's NFL 2K series.
It's the old, "If you can't beat 'em, make them contractually unable to produce a product that can compete with yours," strategy. 2K Sports, for its part, purchased exclusive rights to major league baseball in 2005, ending EA's MVP series. Rumor has it that EA is gunning to get exclusive rights to NCAA basketball and are the ones who derailed 2K's discussions with the DLC. The slapfight continues.
Watching EA and 2K gobble up exclusive rights agreements like white marbles in Hungry Hungry Hippos reminds me of something God of War designer David Jaffe said last week during his blog post on the theoretical benefits of a universal game console. He said that although there wouldn't be any hardware competition if there was only one console, "you get MORE competition on the software side - which is, to me, where it counts - because there is MORE competition to be the best on a single system instead of content creators splintering and never ever worrying about competing with 2 out of the 3 groups." I really wish there was open competition in the sports genre rather than these two, self-contained empires. I won't deny it, both companies make pretty good sports games, but when your game's only competitor is its previous installment, things get a bit stagnant. It often results in new games with only marginal upgrades over their predecessors.
It's possible that 2K Games could turn around and make a college basketball game that doesn't encroach on the NCAA license. This summer they released All-Pro Football 2K8, a pro football game featuring over 200 retired NFL players (apparently not bound to EA's agreement with the NFL). Could they take the work they've done so far on College Hoops 2K9 and make a college basketball game filled with all-time greats from NCAA history? I'd just hate to see them quit on the sport entirely and leave EA uncontested. When there's no competition between developers, the gamers are the ones who suffer.
Your Daily Blend of Entertainment News
Staff Writer at CinemaBlend.