Conor McGregor Wins EA Sports UFC 2 Cover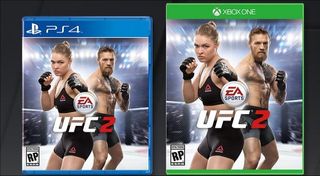 Following his momentous knockout victory at UFC 194 at the MGM Grand Garden Arena in Las Vegas, Nevada, Conor McGregor has been awarded with the prestigious honor (or possible curse, depending on who you ask) of ending up on the cover of Electronic Arts' EA Sports UFC 2.
The moment was made official following the fight, as EA posted up the official cover with Ronda Rousey and the newly crowned bantamweight champion Conor McGregor on their Twitter feed.
The feed was filled with some interesting responses from the gaming and MMA crowd, including a few people asking why EA opted to have Ronda Rousey on the cover instead of the undefeated Holly Holm.
Others mocked EA for what some consider to be the "Madden curse" that's now turned into the "EA curse", as a few people stated that McGregor was either going to be cursed and they yelled at EA that "no one wants your curse".
These aren't hollow words given that recently McGregor came off a striking win (literally) on his opponent Jose Aldo and some people are already worried that the cover could jinx McGregor's hot streak the way they superstitiously believed that the cover announcement for Rousey jinxed her fight against Holm.
Originally it was announced by Electronic Arts that whoever came out the winner of the match between Aldo and McGregor at UFC 194 would be awarded the honor of starring on the cover of EA Sports UFC 2 behind Ronda Rousey. McGregor took home a victory in a record 13 seconds, knocking out Aldo with just a single punch, and downing him for the win.
Those exact kind of flash knockouts are completely possible in EA Sports UFC. We've seen it happen plenty of times with the commentary going wild and the crowd erupting in excitement.
The game is filled with a lot of those possibilities and they plan on expanding that in the sequel. There were some complaints about learning and mastering the controls in the original EA Sports UFC, but it had its own gimmick where once you learned how the fighting and submissions worked it was not only very intuitive but also extremely satisfying once you locked in a submission and made an opponent tap.
The other neat thing about the game is that both submissions and striking were put on equal footing. It was just as easy to take an opponent down and lock on a submission hold as it was to step in and do a hard hitting uppercut to knock them out at the beginning of the round.
With the sequel to EA Sports UFC hopefully we'll see further refinement on the fighting and even more options and highlight reel moments. The game is scheduled to release in the spring of 2016 for the Xbox One and PS4. Sadly no PC release is in sight. Gamers can look forward to picking up a physical copy with both "Rowdy" Ronda Rousey and Conor McGregor on the cover.
Staff Writer at CinemaBlend.
Your Daily Blend of Entertainment News
Thank you for signing up to CinemaBlend. You will receive a verification email shortly.
There was a problem. Please refresh the page and try again.