Cory Barlog Leaving SCEA - What About God Of War 3?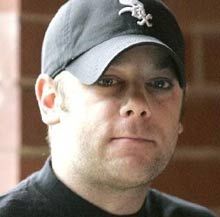 Poor Kratos, for all his badassery he just can't keep a director around. SCEA confirmed today that Cory Barlog, director of God of War 2 is working on leaving the SCEA Santa Monica studio. Cory has not announced future plans, but Sony has stated that the God of War team is capable, and talented enough, to carry on with the next project. That project? God of War 3, which Sony has acknowledged publicly for the first time today. Not that any of us are surprised, we've known that a sequel would be coming sooner or later.
Will Barlog join GoW creator David Jaffe at his new studio? Perhaps to combine superpowers and birth the next Kratos adventure. Yeah, that's doubtful. Not Barlog going to Eat. Sleep. Play., the whole GoW thing would be suspect. As smart a move as that would be, getting Jaffe back on his baby, Sony currently seems ready to tackle the sequel without either developer. Until we get news on who will be taking over directorial responsibility for God of War 3, things don't look good for the franchise.
You can't underestimate a great director when it comes to making games. God of War is a fantastic concept, but even the best ideas can be raped by poor management. Then again, I was among many who questioned the viability of the game without Jaffe. A concern that was squashed when God of War 2 released earlier this year, and was superb. But the telltale signs of stagnancy is there (quick time kills, the grappling hook of crapitude as examples). Bring back Jaffe, who is still a Playstation developer by trade, and you'll have a man with the brass balls to kick gamers in the throat with an all new Kratos story that'll put the previous games to shame.
Once Barlog – am I the only one who wants to spell that Balrog? – announces his future plans we'll pass that info along. For now, all we can do is hope that Sony doesn't screw up God of War 3. The company is on the verge of turning the PS3 brand around, but the battle is going to be long and hard.
Staff Writer at CinemaBlend.
Your Daily Blend of Entertainment News
Thank you for signing up to CinemaBlend. You will receive a verification email shortly.
There was a problem. Please refresh the page and try again.