Crackdown 2 Toy Box, Deluge DLC Detailed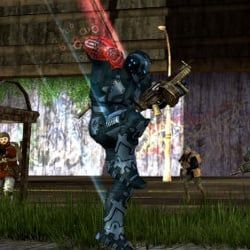 Recently released sandbox action game Crackdown 2 will be receiving at least two pieces of downloadable content in the near future. In a new interview, C2 producer James Cope revealed some details on each of the DLC packs.
Cope told MTV Multiplayer that the first DLC is called "Toy Box" and adds the Keys to the City debug mode seen in the first Crackdown. Keys to the City mode allows you to spawn in items and alter your Agent's statistics. New items and vehicles will be included with "Toy Box" as well.
The second DLC, "Deluge," will add brand new game modes. Cope didn't go into specifics but said they're looking to give players "a completely new way to play the game you've already got."
The talk about downloadable content might seem premature to some of you, as you haven't even played the base game. If you want to know whether it's worth your $60, head to our review.
Your Daily Blend of Entertainment News
Staff Writer at CinemaBlend.