Dark Souls 2 Screenshots Unveil Two Amazing Shields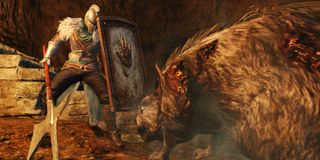 A Dark Souls 2 contest held last year challenged players to design shields for the action RPG. Today two of those fan creations came to life in new screenshots released by From Software.
The first fan design was the "Guardian Shield" by Gabriel Verdon. This off-white shield has a picture of a hand with an eye in the middle embossed in the center. The bottom edge is covered in red and black hand prints. From Software renamed Verdon's creation to "Wicked Eye Greatshield."
"A greatshield with an unsettling design, covered in the pints of countless hands," reads the official description of the item. "The true origin of this shield is unknown. No amount of polishing can clear its face of the mysterious hand prints."
The other piece of fan armor was the "Great Shield of the Raven Goddess." The Raven Goddess shield, also designed by Verdon, is adorned with the silhouette of an enormous raven. The shield will be known as the "Rebel Greatshield" within Dark Souls 2. It once belonged to Raime, a valued servant of the king who later rose against his ruler.
Screenshots of the other shield design winners will be released next week. There were twelve winners in total, half chosen by fans and half chosen by the developers. Though both of the shields revealed today were tower shields, the other creations include both medium and small shields. You'll probably find a use for one of these shields regardless of what class you choose in Dark Souls 2.
Dark Souls 2, like its predecessor, is a difficult dungeon-crawler with multiplayer elements. Players can jump into one another's games to fight or work together. Many of the other signature features of Dark Souls will also make a return, like covenants and massive bosses. From Software says that DS2 will be more accessible to newcomers, though, and take place in a world twice the size of Dark Souls'.
DS2 will debut on Xbox 360 and PS3 in March. From Software previously announced a PC version as well but hasn't provided a date yet. They're using the extra time to make sure it's more polished than the PC port of Dark Souls.
Image 1 of 8