The Darkness II Trailer: A Crazy Guy Explains The Story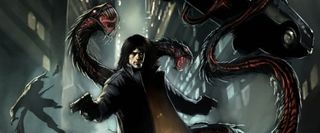 2K Games has issued a new trailer for The Darkness II. In the trailer, a disheveled man quickly sets up the story of the supernatural shooter.
The titular "Darkness" is a malevolent force that has existed since the dawn of time. Throughout history it has possessed numerous people and used them to carve a path of destruction through the world. His latest host is Jackie Estacado, a hitman.
In the first game, Estacado was targeted for assassination by the mob. However, he was able to wipe out his enemies thanks to the powers granted to him by the Darkness. However, the Darkness' gifts come at a cost; the more Estacado kills, the more control this dark force gains over him.
The second game picks up two years later. Estacado has managed to keep the Darkness at bay. However, the start of a new mob war threatens to unleash the Darkness all over again.
The Darkness II will hit the PS3, PC, and Xbox 360 on February 7th in North America. The European launch is slated for the 10th.
Staff Writer at CinemaBlend.
Your Daily Blend of Entertainment News
Thank you for signing up to CinemaBlend. You will receive a verification email shortly.
There was a problem. Please refresh the page and try again.