Darksiders 2 Argul's Tomb DLC Now Available For Everyone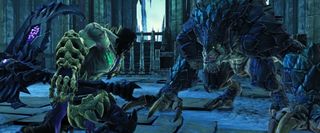 Yesterday we reported on the situation where gamers received access keys for the Argul's Tomb DLC for Darksiders II but they were unable to access the DLC in the game. Well, as suspected, THQ sent the keys out early for some users and if you've been having trouble accessing the content, those troubles end today.
The Argul's Tomb DLC has officially become available to anyone who wishes to dive into the new region for the hack-and-slash RPG. The content includes two brand new ice dungeons, new loot of legendary status and a brand new boss to face off against.
For those who pre-ordered the game the DLC is free, so you should have received the e-mail from THQ already explaining how to retrieve your code. There should be a detailed instructional e-mail on how to access the new content.
Everyone else who wanted to dive head-first into the new areas and start exploring the dungeons for some legendary loot, you'll have to lay down some hard-earned cash (I know, I know, you don't like parting ways with those dollar bills) but you can do so for 560 MS Points / $6.99 / €5.49 / £4.39 / AUD9.25 for the Xbox 360, PS3 or PC. That's not too bad, I guess. But I haven't explored the DLC so there's no telling if it's large enough to justify the price.
If you're still contemplating getting the game, feel free to learn more about Darksiders 2 by paying a visit to the Official Website or checking out Gaming Blend's review of the game.
Your Daily Blend of Entertainment News
Staff Writer at CinemaBlend.