Dead State, City Of Steam, Angry Video Game Nerd Greenlit For Steam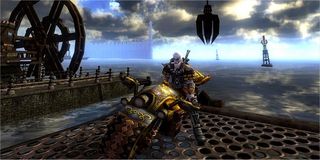 Some of the most anticipated indie titles due out this year have officially been greenlit to appear on Steam's store. Some of the games now officially approved for Steam Store acceptability includes the highly praised Dead State, the very popular City of Steam and the always controversial Angry Video Game Nerd Adventures.
As noted in the very brief but informative post from Valve...
Additional games added to the roster includes Agarest: Generations of War, Dead Trigger, Elsword and the surprising entry of Dreamfall Chapters: The Longest Journey. I was a little shocked that the last one wasn't already available on Steam. Oh well, better late to the party than never having showed up at all.
A few other notable entries includes Planet Explorers, the terraforming questing game that expands the emergent genre by a few fold, and Faceless, the unofficial Slenderman game that pits players against the Faceless One.
You can check out the complete list of games that have been greenlit below or visit the Official Steam Greenlight Page to learn more about the process or vote for your favorite title. And for crying out loud, why has Edge of Space not been greenlit yet?
Agarest: Generations of War
Angry Video Game Nerd Adventures
Battle Worlds: Kronos
Cradle
Dead Trigger
Death Inc.
Dreamfall Chapters: The Longest Journey
Elsword
Faceless
Frozen Endzone
Hammerwatch
Legend of Dungeon
Pinball Arcade
Rush Bros.
Shovel Knight
Staff Writer at CinemaBlend.
Your Daily Blend of Entertainment News
Thank you for signing up to CinemaBlend. You will receive a verification email shortly.
There was a problem. Please refresh the page and try again.