Defiance Goes Free-To-Play On Xbox 360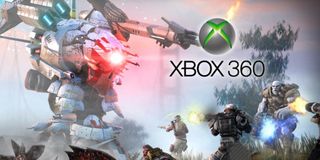 Attention all Ark Hunters who couldn't muster enough Scrip to purchase Defiance for the Xbox 360: The game has now gone free-to-play on your console of choice, joining the PlayStation 3 and PC crowd in the magical realm of no upfront cost gaming.
Defiance is an interesting game. Released last year on consoles and PC, it's a third-person shooter MMO with no subscription service. Basically, all you had to do was drop 60 bucks on the disc and you were ready to roll into the California wasteland at no additional cost.
The game is based on the same property as the popular Syfy show about what happens to Earth when a group of aliens show up, go to war and accidentally terraform the majority of the globe. When the show is in-season, dynamic missions pop up within the game that tie in to the weekly happenings. Things that happen in the game may also pop up in the show, with characters occasionally bouncing back and forth between the two.
It's not a massive game, as far as MMOs go and, yeah, it's suffered some stability issues since day one, but that didn't stop me from pouring lots of hours into the entertaining shooter, tackling missions, driving vehicles, taking part in massive dynamic boss fights and even duking it out in PVP shootouts. There are also fun challenges to take up, lots of side missions, firearms aplenty and more.
Following launch, various bits of DLC have been dropped into the game, including a recent add-on that introduced a whole new land mass and loads of additional content. It's a decently robust package and, when it's firing on all cylinders, it can be a surprising amount of fun to play. Going the semi-free-to-play route was a wise decision, as folks aren't likely to want to drop monthly cash into a game that isn't, say, World of Warcraft. The game eventually went completely free-to-play on the PS3 and PC, meaning the only thing you had to sink money into was content outside of the core experience. It's taken a while to come full circle, but now gamers on the Xbox 360 can finally enjoy that no-charge goodness, too.
As of this week, the Xbox 360 version of Defiance is completely free-to-play, meaning anyone with an Xbox Live Gold account can simply download the game and start adventuring. There's an "Aftermath" update due out next week, meaning players will have time to catch up on the latest content before finding out what happens in the Bay area following the conclusion of the TV show's second season.
If you've already played Defiance and feel like returning now that the game has gone free-to-play, you'll notice some additional goodies, too. For starters, you'll have four base character slots and five base loadouts available. You'll also have some boosted base figures for in-game currencies and inventory slots, as well as a 30-day "Paradise Patron Pass" that gives you access to some additional content for a limited time.
Staff Writer for CinemaBlend.
Your Daily Blend of Entertainment News
Thank you for signing up to CinemaBlend. You will receive a verification email shortly.
There was a problem. Please refresh the page and try again.