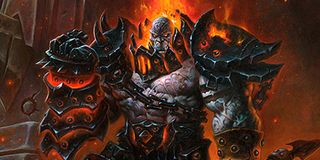 Many World of Warcraft players experienced major issues trying to play the new expansion Warlords of Draenor. Blizzard has decided to give them some free game time as an apology.
Every active World of Warcraft account in the Americas, Oceania and Europe will receive five days of extra game time. The account needs to be active as of Friday to be eligible. Players in Korea, Taiwan and China missed out on this freebie because the expansion didn't launch there until today.
"I know how much everyone was looking forward to this expansion, and once you were able to get in and start having fun, all the comments I've seen indicate that this is one of our best yet," said WoW executive producer J. Allen Brack on the Battle.net forums. "But the quality of the content does not excuse the subpar launch experience we delivered, and I apologize for that."
"The first two days of the expansion were not a great experience, with many of you facing high queues or significant gameplay problems. We worked around the clock to tackle the demand issues and technical challenges, and fortunately things started looking better on Saturday. While millions of you were able to get in and play over the weekend, with many already reaching level 100, others still ran into very lengthy queues, particularly on the highest-population realms."
The amount of players logging on to play Warlords of Draenor since Thursday far exceeded Blizzard's expectations. This huge uptick in the player population, coupled with bugs with new features like garrisons, made the game unplayable for many. Blizzard temporarily lowered the maximum population limits to ease the strain on their servers, which meant that players had to wait up to several hours to log into a game that wasn't functioning correctly. The massive World of Warcraft sub-Reddit r/wow was shut down in protest of these issues.
The development team ultimately took the game offline for several hours on Friday and Saturday to perform maintenance. Following maintenance, Blizzard raised the population caps for the servers back to normal levels. They were able to do this thanks to a new instancing technology they've deployed. Brack says that this change is effectively doubling the pre-Draenor capacity of the servers.
"Things are already in a much better place than they were going into the weekend, so I hope you'll now be able to focus on having a ton of fun with this expansion."
"I also hope you'll accept my apology and keep your faith in us. The support voiced by many of you as we worked through the challenges was immensely appreciated. We're extremely grateful to be part of such a passionate community. We love World of Warcraft, and we're very proud of this expansion, so stumbling out of the gates like this was very disappointing for all of us."
Your Daily Blend of Entertainment News
Staff Writer at CinemaBlend.