Destination PlayStation 2013 Announced For February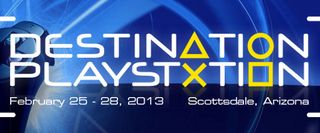 Sony Computer Entertainment America announced the details on their 13th annual Destination PlayStation today. Destination PlayStation is a showcase of the latest releases for the PlayStation 3 and the PS Vita.
The event is a preview event for retailers rather than fans. In other words, don't expect any big E3-style announcements. Or any announcements at all, for that matter.
Still, we can hope for a leak or two. For example, Destination PlayStation 2012 is where Sleeping Dogs' existence was revealed. Perhaps we'll find out about another big release, or the next PlayStation.
Alternately, we might get some fresh details on Sony's 2013 software plans. PS3 exclusives like Beyond: Two Souls, God of War: Ascension and The Last of Us should be on display. Some new screenshots or videos could be in the works.
Destination PlayStation will run from February 25th to 28th. It's being held at the Fairmont Scottsdale Princess resort. Retailers can register at the official website.
Staff Writer at CinemaBlend.
Your Daily Blend of Entertainment News
Thank you for signing up to CinemaBlend. You will receive a verification email shortly.
There was a problem. Please refresh the page and try again.