Destiny's April Update Will Have Great Bonuses For PlayStation Users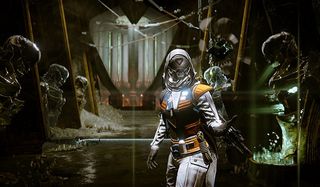 It looks like Bungie and Sony are still BFFs, as folks playing Destiny on PlayStation consoles will once again see some exclusive content when the game's upcoming update goes live.
Set to hit the world of Destiny on April 12, the latest update to the game will offer a bunch of new content for all players at absolutely no additional charge. According to the PlayStation Blog, however, Guardians fighting back the darkness on PlayStation 3 and PlayStation 4 will receive some sweet exclusive gear and story content. Here's a rundown of what you can expect:
-Sniper rifle: Zen Meteor
-Quest: Essence of Darkness
-Sparrow: Velumbra
-Warlock armor: Barkhan Dune I
-Hunter armor: Long Tomorrow 9G
-Titan armor: Jovian Guard
Not too shabby, really, and that's on top of all of that extra content coming to every version of Destiny as part of the April update. The rest of that content includes a brand new story arc, a new max Light level (335), some new challenges in the Prison of Elders, a pair of new Strikes and, of course, new gear galore, emotes and a few tweaks to the game's systems.
Those Prison of Elders challenges will let Guardians take on the Fallen in a level 41 set-up, and then there's a four-month special competition called Challenge of the Elders that invites Guardians to come back on a regular basis to face a brand new gauntlet with a regular reset.
As for the Strikes, one is an updated version of Winter's Run boasting Taken opponents, and the latter is a new threat named Malok, who can be fought within the Blighted Chalice.
That's great and all, but you really can't overlook those spiffy extra freebies coming to PlayStation Destiny fans. The Zen Meteor has explosive rounds, with rapid kills making each subsequent round do even more damage. It also has a "With a Laser Beam" perk, with the extra round from Dynamite causing a massive explosion. It'll be available through decrypiting Legendary or Exotic Engrams.
The Velumbra Sparrow boasts the new color scheme and, well, it's just a new Sparrow. You can get it by completing the "Fight Fire with Fire" mission. You can also earn this ride by completing the exclusive quest, "Essence of Darkness," which we don't exactly have a lot of details on.
Finally, there's that new armor for each class, all of which look pretty classy in their color patterns of white, orange and sky blue.
Bungie is gunning to revitalize Destiny here in the midst of its second year, and content like this certainly isn't a bad start. That goes double if you're playing on PlayStation, courtesy of the extra loot.
So tell us, readers: Are you planning on diving back into Destiny once the April update goes live April 12? Sound off in the comments below.
Staff Writer for CinemaBlend.
Your Daily Blend of Entertainment News
Thank you for signing up to CinemaBlend. You will receive a verification email shortly.
There was a problem. Please refresh the page and try again.