Destiny Crota's End Hard Mode, Iron Banner Event On The Way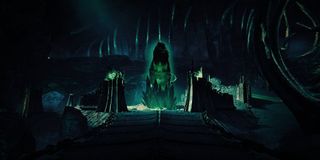 Destiny's latest raid, Crota's End, is about to undergo big changes. Today Bungie detailed the hard mode and bug fixes they plan to implement for the raid soon.
"Hard Mode for Crota's End is going through the final few stages of deployment," said Bungie in their Weekly Update. "It's almost ready. As soon as we have a concrete date to share, we'll set it in stone so you can assemble your crew for that first run, or so you can find the time to tune into the streams and vicariously witness the madness and make note of the new and necessary strategy updates."
"We're not going to spoil any hard mode surprises here. You'll need to learn a new trick or two, but given your past performances, we're pretty sure plenty of you will find a way to come out on top and earn some shiny new trophies to take with you on your next adventure."
It's safe to say that players are ready for a new challenge. Some of them have been absolutely wrecking the normal mode of Crota's End. The best players in the game managed to beat it hours after release. One other guy finished the raid all by himself.
Bungie does want to ensure that players are beating Crota's End fair and square, though. For example, players found out they could keep final boss Crota locked in a vulnerable state by having their Fireteam leader log out. They also discovered ways to bypass entire sections of the raid. The development team's not happy about any of these exploits so they're fixing them in an upcoming patch.
The patch, expected on January 13th, also changes the level for loot from Vault of Glass. Here are the preliminary patch notes:
The player-versus-player side of the game will be affected by the update. Crucible maps Asylum, The Anomaly and The Burning Shrine will be added to the Clash and Control playlists so players can experience them more often. The special event Iron Banner will also be relaunched.
"Iron Banner will return, with updated rewards, running from January 13th through January 19th."
Staff Writer at CinemaBlend.