Destiny The Dark Below DLC Opening Trailer Leaked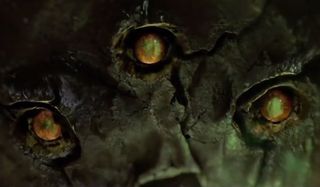 There's an ironclad rule with Destiny: if Bungie is working on something big, it will be leaked. Today the opening trailer for expansion pack The Dark Below hit the web.
The CGI trailer takes us to the Moon. The camera descends into the Hellmouth, the massive underground fortress that the Hive carved into the surface. As the camera goes deeper and deeper, a female voice narrates.
"Six of us went down into the pit," the voice says. "Only one crawled out. I am Eris, the last. I have seen what the Hive call a god. Crota, son of Orix. He took everything from me. He will turn his eyes to Earth and only a true weapon of the Light can stop his wrath. Now you must face what lurks in the dark below."
The trailer also seems to show Crota himself. He looks a lot like the other Hive: an ugly bug dude with green glowy magic. It's also possible that we're looking at some minion summoning him, though.
When The Dark Below goes live, Eris will appear in the Tower and provide players with three story missions. These missions will pit players against the Hive on both Earth and the Moon. In a new strike called "The Will of Crota," they will confront Crota's minion Omnigul. The new six-person raid, "Crota's End," lets them fight the Hive god himself.
The details on The Dark Below were first revealed to players accidentally by a bug. Information on next expansion House of Wolves was uncovered through the same leak. YouTuber MrJester6598 found the opening cinematic for the expansion in a similar way.
"I can not explain how to get access to this video on the game as it was due to an error that i was able to see this," he said. "As far as i can tell, this is the first video put on youtube of this."
If Bungie is upset about the leak, they're not showing it. They could take down the YouTube video on copyright grounds if they wanted to. At this point, it would be a futile effort though because it's no doubt mirrored in dozens of places. I'm glad they realized that squelching a trailer that everyone's going to be able to see in a few weeks anyway is pointless.
The Dark Below will officially launch on December 9th. Players can purchase it individually or as part of the Expansion Pass, which will also provide access to the unannounced second DLC. Buying The Dark Below or the Pass provides exclusive access to a high-flying Sparrow called the Tumbler.
Staff Writer at CinemaBlend.
Your Daily Blend of Entertainment News
Thank you for signing up to CinemaBlend. You will receive a verification email shortly.
There was a problem. Please refresh the page and try again.