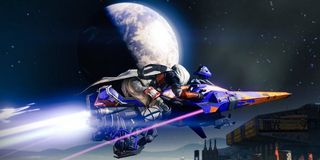 Destiny players who purchase the first expansion pack The Dark Below will get an exclusive item. No, it's not a gun.
Instead, the bonus is the EV-30 Tumbler Sparrow. This hoverbike's paintjob has an orange flame pattern with a blue background, making it kind of resemble a Hot Wheel I used to own. The paintjob isn't the only aspect of the vehicle that's extreme.
"The EV-30 Tumbler features advanced modifications that bypass standard safety systems, disabling the stabilization and gyroscopic-force dampeners designed to keep you grounded," Bungie explains.
In other words, the Tumbler gets serious air and lets you perform tricks. The trailer and screenshots for the Sparrow shows players doing barrel rolls, flipping end over end, and more. The bike basically turns Destiny into a futuristic X-Games.
The EV-30 Tumbler is technically a Legendary class Sparrow. However, it seems to have the same speed and durability as a Rare.
If you've purchased the $34.99 Expansion Pass for Destiny, you'll be able to pick up the EV-30 at the Postmaster in the game right now. The Expansion Pass provides access to The Dark Below as well as the second expansion as they're released. Players who only purchased The Dark Below will have to wait until the expansion's launch on December 9th.
In The Dark Below, the Hive is attempting to summon their god. Players will try to stop that from happening across new story missions, a cooperative Strike, and a raid. The Crucible will also be updated with three new competitive arenas. Players will be able to earn new gear throughout this content and advance to the new level cap of 32.
Though the expansion is still a few weeks away, there's a lot going on in Destiny right now. Yesterday Bungie brought back the special PvP event Iron Banner with significant changes based on player feedback. This event will run until early next week. Bungie has also expanded the game's voice chat so that players can communicate with their teammates in matchmade activities such as Crucible matches and Strikes.
Image 1 of 6
Your Daily Blend of Entertainment News
Staff Writer at CinemaBlend.