Destiny Won't Be Getting Raid Matchmaking, Here's Why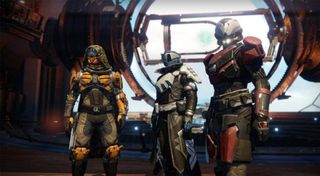 If you were hoping to log-in to Destiny, fire up the game menu and open an option to instantly find a good raid team via a matchmaking tool... think again; that feature won't be coming to the game any time soon.
IGN picked up some choice quotes from an interview Game Informer conducted with Bungie's lead designer, Luke Smith.
The designer addressed the issue of finding decent matches for raids via in-game tools. Smith shoots down the idea that they need traditional tools that people are accustomed to, when discussing matchmaking...
There's a lot of semantics in there, but I can understand some gamers wanting better ways at grouping in Destiny. The game itself feels like the skeleton of an MMO that was intended to evolve into a bustling single-player campaign, but neither idea came together in a way that made it satisfactory... in my opinion.
Nevertheless, Bungie wants to address the game's lack of camaraderie and they're going to do so in a way that fits the nature of the game. So how do they plan to do this? Well, Smith offers something of an old-school suggestion... something MMO fans will quickly recognize...
It's probably news that comes as a pretty big blow to many diehard Destiny fans. Casual players will probably continue to exist as if this news never entered their lives in the first place.
Even for a core gamer like myself, this news is kind of like "meh, whatever". Then again, Destiny is a game that literally bores me to sleep. So a lack of matchmaking isn't really going to change the course of my day one way or another, other than the fact that I'm writing about a feature I never thought about for a game I don't like all that much. I mean, yeah it's popular and it's from Bungie, but it plays like a 100% half-hearted effort.
Of course, even without matchmaking, there are still a number of other updates coming to the game with the update called 'Dark Below'. PS3 and PS4 fans, as has been the trend with a lot of the promotional efforts for Bungie's title, will be receiving an exclusive treat in the update. However, the treat won't be matchmaking.
Staff Writer at CinemaBlend.
Your Daily Blend of Entertainment News
Thank you for signing up to CinemaBlend. You will receive a verification email shortly.
There was a problem. Please refresh the page and try again.