Diablo 3 Isn't Region-Locked, Guest Pass Confirmed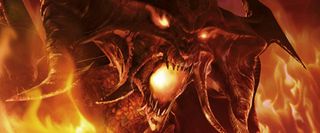 Blizzard is making it easier for Diablo 3 owners to play with friends who live in other countries. Today they announced the game's Global Play functionality, which enables players to access D3 game servers outside their own region.
The global servers are split into three regions: The Americas, Europe and Asia. For the most part, you'll be playing in your "home" region. However, you can switch regions through the options menu before or after you log in. You can swap between regions as many times as you like for no charge.
Even if you don't have friends in other countries, there's good reason to be excited for this feature. If the game servers in your home region are undergoing maintenance, you can play in another region. Your latency probably won't be as good in these other countries but still, some D3 is better than none. Should be passable if you're just planning to play the campaign.
There are, of course, some restrictions on your globe-trotting. Heroes, items and your BattleTag friends lists don't transfer to different regions. While you can use the gold-based auction house in other regions, the real-world money auction house will only be available in your home region.
Certain groups of players are excluded from this feature as well. Korean players who log onto the game at an Internet Game Room (i.e. internet cafe) and don't own the game themselves can only play in the Asia region. Furthermore, if you're using a D3 "guest pass", you'll be restricted to your home region.
The guest pass is presumably the Starter Edition that was accidentally leaked onto beta servers recently. Blizzard says guest passes will be available after D3's release. This is the first time they've outright confirmed this trial edition of the game.
D3 will launch on May 15th on the PC and Mac.
Staff Writer at CinemaBlend.
Your Daily Blend of Entertainment News
Thank you for signing up to CinemaBlend. You will receive a verification email shortly.
There was a problem. Please refresh the page and try again.