Diablo 3 Reaper Of Souls Release Date Announced, Digital Expansion And Collector's Edition Detailed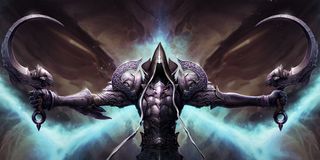 Blizzard has announced the full release details for Diablo 3: Reaper of Souls. The expansion pack will launch worldwide in March with Standard, Digital Deluxe, and Collector's Editions.
Reaper of Souls introduces a fifth act to the action RPG's campaign. Players will travel to the kingdom of Westmarch with their existing characters or create a new Crusader character. They'll be assisted in their journey by a new artisan known as the Mystic. Players looking for entertainment outside of the storyline can delve into randomized Loot Runs or challenging Nephalem Trials.
The expansion will be available starting on March 25th, 2014. If you pre-purchase a digital copy through Battle.net, you'll be able to download the files prior to launch. No word yet on when preloading will begin, though.
Reaper of Souls' standard edition is priced at $39.99. The Digital Deluxe Edition is $59.99. You have the option of upgrading to Digital Deluxe for $20 if you pre-ordered the Standard Edition first. The Deluxe package comes with the following in-game extras:
A collection of exclusive helm- and weapon-transmogrification recipes to distinguish your hero among the champions of Sanctuary
A loyal Spectral Hound minion to keep your adventurers company on their epic journeys
Three additional character slots to accommodate new heroes
An in-game Treasure Goblin companion pet for World of Warcraft
An assortment of Crusader-themed Battle.net portraits and Malthael-themed decals for StarCraft II.
Pictures of all of these virtual extras can be found below. They should be unlocked once the expansion launches. Blizzard says there's a chance they could arrive early, too.
The Collector's Edition comes with everything in the Digital Deluxe Edition along with the following items:
Malthael mouse pad, bearing the impenetrable visage of the Angel of Death
Hardback Collector's Edition art book, chronicling the game's artistic development
Behind-the-scenes Blu-Ray/DVD two-disc set, featuring in-depth interviews with the development team and members of the Diablo III community
Diablo 3: Reaper of Souls is currently in closed beta. The beta features all of the content from the full expansion save for the last boss fight. Blizzard is inviting players in waves but not everyone who opted into the test is guaranteed to get in.
However, anyone who owns D3 can test Patch 2.0, the free update accompanying Reaper of Souls. Patch 2.0 will make major changes to the game's progression and difficulty. It also adds support for Clans and Communities.
The expansion content will be released along with the base game on PS4 in an Ultimate Evil Edition. Blizzard hasn't announced a release date for that bundle yet.
Image 1 of 3
Your Daily Blend of Entertainment News
Staff Writer at CinemaBlend.