Diablo 3 Season 3 Launching Today, Will Be Much Longer Than Season 2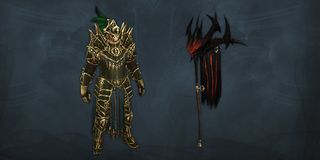 Diablo 3's Season 3 will kick off today worldwide. The new Season will give players a fresh set of goals and rewards to strive for in the action RPG.
Season 3 will officially launch on the game servers at the following times:
North America: Friday, April 10 @ 6:00 p.m. PDT
Europe: Friday, April 10 @ 6:00 p.m. CEST
Asia: Friday, April 10 @ 6:00 p.m. KST
Season 2 wrapped up earlier this week. While S2 was lasted two months, Blizzard wants the new Season to be at least twice as long:
In Seasons, players create fresh Normal or Hardcore characters and try to accomplish as much as possible by the end. Leaderboards keep track of what players have racked up the most Achievements or attained the most Greater Rifts progress. The usual set of Achievements are accompanied by Season-specific ones called Conquests. Some of the Conquests in S3 are brand-new.
"While favorites like Sprinter / Speed Racer and Avarice / Avaritia will be returning, we've also added a few new ones," Blizzard said on Diablo 3's website. "For instance, On a Good Day requires you to level six Legendary Gems to level 40, while completing Curses! requires you to kill 300 or more monsters in a Cursed Chest event at level 70 on Torment VI."
Season 3 characters will be able to find Legendaries not available to non-Seasonal characters. Here's a list of a few new or reworked Legendaries you'll encounter:
Dead Man's Legacy - Multishot hits enemies who are below 50-60% health twice
Dread Iron - Ground Stomp causes an Avalanche
Nagelring - Summons a Fallen Lunatic to your side every 12 seconds
Obsidian Ring of the Zodiac - Your first hit with each cast of a resource-spending attack reduces the remaining cooldown of one of your skills by 1 second
Blessed of Haull - Justice spawns a Blessed Hammer when it hits an enemy
Ranslor's Folly - Energy Twister periodically pulls in enemies within 30 yards
Little Man's Finger - Gargantuan instead summons three smaller Gargantuans, each more powerful than the original
Spirit Guards - Your Spirit generators reduce your damage taken by 30-40% for 3 seconds
Participants in Season 3 can also earn new cosmetic rewards. You'll acquire a new Pennant and portrait frame by earning 100 and 400 Achievement points, respectively. Furthermore, anyone who reaches level 70 with one Season 3 characters will also unlock Conqueror's gloves and chest piece to complete the transmogrification set they've been collecting since Season 1.
Season 3's launch comes just a few days after the release of Patch 2.2. The update added and revised many items, while also introducing new treasure goblins to hunt.
Your Daily Blend of Entertainment News
Staff Writer at CinemaBlend.
Your Daily Blend of Entertainment News
Thank you for signing up to CinemaBlend. You will receive a verification email shortly.
There was a problem. Please refresh the page and try again.