Diablo 3 Xbox One And PS4 Will Get Patch 2.1 And Other Updates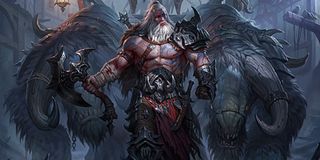 The PS4 and Xbox One versions of Diablo 3: Ultimate Evil Edition won't be inferior to their PC counterpart. Blizzard confirmed this weekend that they'll provide post-launch support for those versions, contrary to earlier statements.
Believe it or not, there was actually doubt that they would patch the game after launch. Here's what they said in early July:
I guess Blizzard talked it over and realized that yes, releasing a game on PS4 and Xbox One and then running full speed in the other direction wouldn't be a great move. Few games are completely bug-free at launch. If Diablo 3: Ultimate Evil Edition was released with some major glitch and they didn't fix it, that would seriously hurt Blizzard's credibility with console gamers.
There's also the matter of new content. For example, Blizzard is currently working on Patch 2.1 for the PC version of D3. Patch 2.1 will introduce PvP Seasons along with timed Nephalem Rifts. Had Blizzard decided not to release these content updates on PS4 and Xbox One, it would be tough to look at them as anything other than inferior ports of the PC edition.
Fortunately, though, Blizzard plans to release PS4 and Xbox One patches for Diablo 3: Ultimate Evil Edition that "mirror" the PC patches.
"When we started on this adventure, we thought we'd never be able to do updates on the console side in the same way we do with the PC," said D3 production director John Hight on Xbox Wire (opens in new tab). "This allows us to be more responsive to our customers. Our goal is to eventually make these updates simultaneous."
'Eventually' is a key word here. As Hight explains on PlayStation Blog, the console patches will "take additional time." Here's hoping that they can make the patches simultaneous across all platforms in short order.
Diablo 3 on PS4 and Xbox One will get a day one patch as well. Blizzard said previously that this patch should include the 2.0.6 fixes implemented on PC. The XB1 version of this update will also update the resolution from 900p to 1080p - giving it visual parity with the PS4 edition.
Diablo 3: Ultimate Evil Edition includes all the content from the base game and its expansion pack Reaper of Souls. It also introduces new social features like in-game mail. Other console-specific improvements include a redesigned UI and a dodge button.
The game will hit PS3, Xbox 360, PS4 and Xbox One on August 19th. You can transfer a character from the original D3 to Ultimate Evil Edition by following these directions.
Your Daily Blend of Entertainment News
Staff Writer at CinemaBlend.
Your Daily Blend of Entertainment News
Thank you for signing up to CinemaBlend. You will receive a verification email shortly.
There was a problem. Please refresh the page and try again.