Disney Infinity 3.0 Will Add Star Wars Characters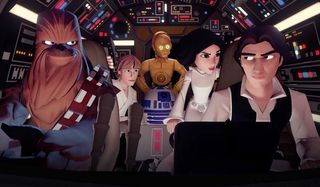 Disney announced a third wave of new content for their toy-video game hybrid Disney Infinity today. Disney Infinity 3.0 Edition will introduce a number of Star Wars characters and locations.
"Star Wars is a cross-generational franchise, and Disney Infinity 3.0 Edition creates an incredible opportunity for families and fans to relive their favorite Star Wars moments," said Disney Infinity general manager John Blackburn. "With the addition of Star Wars, Inside Out and new Disney and Marvel characters, Disney Infinity 3.0 Edition will be the most ambitious and diverse offering yet and also the most accessible, with a lower suggested retail price for this year's Starter Pack."
The $64.99 Starter Pack includes the base game along with the Star Wars: Twilight of the Republic play set. Twilight is set during Episodes 1 - 3 of the film series and lets players experience the last years of the Galactic Republic. They'll become Force users like Anakain Skywalker and Ahsoka Tano in the play set's missions.
Two other Star Wars play sets are also planned. Rise Against the Empire lets players relive the original trilogy with missions featuring Luke Skywalker, Princess Leia and more. The other play set is based on upcoming film Star Wars: The Force Awakens.
Disney Infinity 3.0's other releases will let players delve deeper into the Disney catalog. Upcoming Pixar movie Inside Out will be featured in its own play set. Another play set will star characters from Avengers: Age of Ultron like Ultron and Hulkbuster Iron Man. New action-adventure and kart racing modes will give players new options for online play. Some of the characters coming to the game include Mickey and Minnie, Sam Flynn and Quorra from Tron: Legacy, Mulan and Olaf.
The Disney Infinity 3.0 Edition products will begin hitting stores this fall. It'll be released on PS4, PS3, Xbox One, Xbox 360, Wii U, PC and mobile devices. All of the figures and power discs from 1.0 and 2.0 editions of Disney Infinity will be compatible with 3.0.
Disney will be facing stiffer competition in the toy-to-game genre this season. In addition to their usual rival Skylanders, Infinity will also have to face off against Lego: Dimensions. Nintendo, meanwhile, may steal Disney's thunder on Wii U with their Amiibos.
Staff Writer at CinemaBlend.