Disney's Infinity Delayed To August To Appease Retailers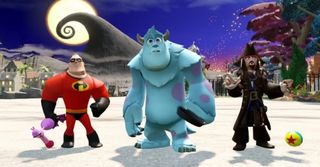 Disney's toy and game tie-in called Disney Infinity lets players take control of popular Disney characters and with the accompanying toy recognition device. The new venture is expected to be as big as Activision's Skylanders brand but we won't know how big it will be because the June release has been scrapped for an August window. Why? Retailers.
Money is the name of the game and retailers don't see a lot of big returns during the mid-summer drought of high-end entertainment, whether it be video games or action figures. According to New York Times [via GI.biz] Disney Interactive's co-president John Pleasants – and just as an aside, this guy's name sounds like something out of a Disney flick – mentioned that retailer pressure is what pushed the game back from its expected launch window...
GameIndustry notes that with Disney Interactive's fiscal year ending in mid-September the August launch could stifle potential sales margins for Disney Infinity but it could work well to improve a rocking opening to the fiscal start of 2014, especially if the brand becomes as big as Activision's Skylanders.
Disney Infinity features characters, scenarios, quests from Disney's illustrious library of fantasy brands, ranging from Pirates of the Caribbean to the popular movie The Incredibles. You can learn more about Disney Infinity by paying a visit to the Official Website.
Staff Writer at CinemaBlend.
Your Daily Blend of Entertainment News
Thank you for signing up to CinemaBlend. You will receive a verification email shortly.
There was a problem. Please refresh the page and try again.