Dragon Age: Inquisition - 50 Minute Character Creation And Gameplay Video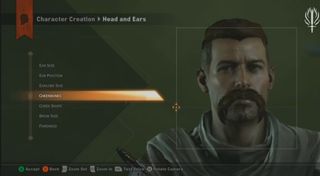 50 minutes of character creation. BioWare let loose a video based on a live-stream they conducted on Twitch where they decided to take a look at the character creation process. The video offers players a look at all the different details that are afforded to those who love creating extremely complex and visually diverse characters.
The game gives you five races to choose from and a handful of starting classes. BioWare's Mike Laidlaw and Cameron Lee explain how the game handles players being able to create the ultimate hero or the ultimate plastic-surgery disaster.
There are some base default heads available for most people to select through that offers a general tone of the kind of character you want. It's really quite similar to the Mass Effect games.
After choosing your starting class stats it's basically just a base for how you build your newbie character. As mentioned in the video, can respec later.
During the video, as spotted by Push Square, it's asked if players will be able to create characters, copy them and share them with friends. Unfortunately, the game doesn't have an option to copy and share characters, opposite of games like Saints Row IV or EA Sports UFC.
On the upside, the devs do mention that they might look into replication codes as a feature that might – though there's nothing set in stone – be patched in post-release.
As for modifying your character's body... there's none of that. You can only get a super-cool face, but not a super-cool body. The reason for not being able to edit the character's body is because different characters have different heights, and they didn't want to run into some major perspective issues during cinematic sequences. I'm sure they also probably didn't want to through the painstaking task of modifying each armor type to adjust to custom body types.
After the 31 minute mark you get to see the game in action, as the developers detail how the action and fighting works, as well as how the tactical menu can be utilized like a classic turn-based game.
There are also a few things that are brought up that are usually skipped over in standard Q&A sessions, such as addressing a gamer's concern about falling off ledges. Yes, gamers are very concerned with falling off ledges... and guess what? You can. Not only can you fall off ledges but you can knock enemies off ledges, too. Next-gen gaming feature right there, folks... falling off ledges.
Another interesting thing is that there's a "friendly fire" feature where you can utilize spells and attacks outside of standard combat. You can also setup and lay out skills before actually engaging in combat. That's kind of neat because in a lot of other games you can't actually initiate certain buffs, skills or spells until you actually aggro something. So it's cool that you can pre-prep your skills before combat.
The video also doesn't shy away from pimping a lot of the pre-order bonus stuff, but I don't think it's such a great thing to promote pre-order bonus DLC when the base game itself still has to prove its worth as a buy-worthy title.
You can look for Dragon Age: Inquisition to launch on November 18th in North America for the Xbox One, Xbox 360, PS3, PS4 and PC. Need more info? Feel free to visit the official website.
Staff Writer at CinemaBlend.
Your Daily Blend of Entertainment News
Thank you for signing up to CinemaBlend. You will receive a verification email shortly.
There was a problem. Please refresh the page and try again.