Saints Row 4 Character Creation Now Available Through Inauguration Station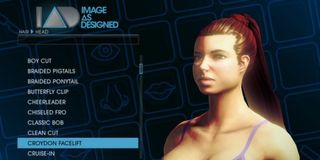 Today Volition released the Saints Row 4 Inauguration Station. This program allows you to create your SR4 character before the game's launch later in the month.
You can make your character either male or female. The Inauguration Station also includes a range of outfits, hairstyles and tattoos for you to choose from. Want to look like a fighter jet pilot, a Kung Fu master, or a hipster? You can be all these things and more. Players can also choose from different voices and complements to give their custom Saint a personality.
Why's the program called the Inauguration Station? Because you're building a President. In Saints Row 4, the leader of the Third Street Saints has been elected to the White House. That's probably the least weird thing that happens in the game, which also involves aliens, a virtual simulation of Steelport, magic and an anal probe/sword.
After you've built your character, you can upload him or her to SaintsRow.com. The website features a gallery of other players' creations which you can import into SR4. Characters from Saints Row: The Third can also be downloaded and updated for SR4.
The Inauguration Station is a free download. You'll just need some hard drive space. The download is 1.23GB and 1.3GB on Xbox 360 and Steam, respectively. If you download the PC version, you'll need to meet the following minimum requirements:
OS: Windows Vista (x86 or x64)
Processor: AMD Athlon II x3 | Intel Core 2 Quad Q6600
Memory: 4 GB RAM
Graphics: AMD Radeon HD 5800 | NVIDIA GTX 260
DirectX: Version 10
Hard Drive: 10 GB available space
The Inauguration Station is currently available through Steam and Xbox Live (opens in new tab). PS3 gamers in North America will have to wait until August 13th. The program will be available on PSN elsewhere in the world tomorrow.
SR4 itself will launch on August 20th in North America and on August 23rd in Europe.
Staff Writer at CinemaBlend.
Your Daily Blend of Entertainment News
Thank you for signing up to CinemaBlend. You will receive a verification email shortly.
There was a problem. Please refresh the page and try again.