Dragon Age Inquisition's Future DLC Won't Be On PS3 Or Xbox 360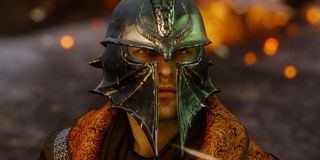 BioWare has revealed that Dragon Age: Inquisition won't receive any future DLC on PS3 or Xbox 360. However, they're now offering a way for those gamers to continue their adventure on PS4 or Xbox One.
The new Save Importer feature for Dragon Age: Inquisition lets you carry over your single-player and multiplayer data to a new console. However, you need to stay within the same console "family." If you have a PS3, you have to export your save to PS4 and if you have an Xbox 360, you need to transfer to Xbox One. Furthermore, your PSN/Xbox Live account must have the same EA account attached to both consoles.
The exact steps for transferring your single-player progress are different on PS3 and Xbox 360. On both platforms, though, you need to save your game while your party is in the Black Emporium, a marketplace previously added to the game for free. You can then export that save and download it onto your new console. While your progress will be intact, BioWare says your character may look a bit different:
The multiplayer transfer must be done separately. It's a one-time, one-way process for your account. You can only transfer if you have 99 Platinum or less. Any remaining Platinum on your account stays behind on the old console.
BioWare says that DLC packs like Jaws of Hakkon or Spoils of the Avvar can be downloaded for no additional charge on your new console if you purchased them for your last-gen system. If you own pre-order items or other promotional extras, they must be installed on your PS4 or Xbox One to utilize them.
Both the single-player and multiplayer transfers will be available with Patch 8 of Inquisition. BioWare expects to release this update later in July.
It's crappy that BioWare is abandoning PS3 and Xbox 360 for Inquisition's future DLC. Still, I'm glad that players upgrading to a new system won't be forced to start over from scratch considering how time-consuming Inquisition can be.
If you're not in the mood to repurchase Dragon Age: Inquisition, there is one way to get the game for free on Xbox One. EA plans to add the game to the EA Access Vault by the end of the summer. This means that any EA Access subscribers will be able to download the game for no additional charge.
Staff Writer at CinemaBlend.
Your Daily Blend of Entertainment News
Thank you for signing up to CinemaBlend. You will receive a verification email shortly.
There was a problem. Please refresh the page and try again.