Dragon Age: Inquisition Gets Free Dragonslayer DLC Very Soon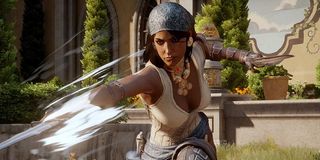 Dragon Age: Inquisition is primed to receive a brand new batch of DLC soon, giving players more places to explore and more winged beasts to slay than ever before. The new content is called "Dragonslayer" and, as an added bonus, it'll be made available across all platforms free of charge.
The team at BioWare revealed the Dragonslayer content over on the Dgraon Age blog, giving gamers an idea of what type of new content they can look forward to when the DLC drops tomorrow afternoon, May 5.
"Claim your place among the dragon slayers of legend," reads the announcement, pegging Dragonslayer for a launch in less than 24 hours across PC, PlayStation and Xbox consoles. "Are you and your party ready for a high dragon-sized challenge? Craft the Dragon's Call, then test your mettle against the fiercest beasts in Thedas."
Some of what was said above is basically Latin to me but, if I'm getting the gist of it, it sounds like players will be able to team up and take on some pretty powerful foes in Inquisition's online mode.
Helping you on this quest will be a trio of new companions, including Skywatcher, an Avvar warrior from the Fallow Mire, Zither the Virtuoso and Isabela, who hails from the Eastern Seas and serves as the Raider Queen. Again, those are some pretty fantastic words being thrown around and, having not played Inquisition yet, I can only assume these characters and their professions are making your heart go pitter-patter.
Also included in tomorrow's update will be a new castle to explore, Ferelden, guaranteed to put your dungeon delving skills to the ultimate test.
If, for whatever insane reason, you need some convincing in order to download a free update for what many argue was the best game of 2014, then you'll get a chance to see Dragonslayer in action before the DLC goes live during a special stream tomorrow morning. The team at BioWare will host a Twitch livestream marathon beginning at 10 a.m. PST on May 5, showing off the new content, features and locations for the DLC.
As always, it's great to see a developer continue to pour in love and support into their games post-launch, giving fans more reasons than ever to return to the fray. This is, of course, assuming they ever left said fray to begin with. Dragon Age is a pretty massive game, after all. Even cooler is when they decide to throw some content around gratis as a way of saying thanks to the fans, as is the case with tomorrow's Dragonslayer update.
Your Daily Blend of Entertainment News
Staff Writer for CinemaBlend.