Dragon Quest Heroes 2 Announces Japanese Release Date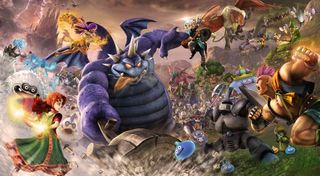 Koei Tecmo and Bird Studio have announced that the sequel to the hack-and-slash 3D action game, Dragon Quest Heroes 2, will launch on May 27 for the PlayStation 3, PlayStation Vita and PlayStation 4 as part of the celebration of the 30th anniversary for the Dragon Quest franchise.
IGN and Gematsu are reporting that the sequel to the recently released Dragon Quest Heroes will be coming in Japan later this year.
The first title originally released in the East on February 26 last year. Omega Force and Koei Tecmo, in partnership with Square Enix, later released the game in North America and Europe in October, later into 2015. After garnering some success on the home consoles Koei Tecmo ported Dragon Quest Heroes onto Steam for PC, where it gained a moderate audience and some positive feedback.
It seems kind of fast for Koei Tecmo to be announcing that a sequel is coming just a year after the first game launched. It's hard to imagine how much they could have changed, implemented and improved with just barely a year's time of development. That's some Madden NFL or WWE 2K turnaround times right there. Usually annual releases don't fare very well, but maybe Bird Studio has been working on the game a lot longer than just a year?
Anyway, if you click through the Gematsu link to the official website they reveal more about Dragon Quest Heroes 2: Twin Kings and the Prophecy's End with a giant poster image, which is the same as the main image of this article. You actually get quite a few details about the title just based on the image alone. For instance, we know that Healix is making a return in some capacity, and we also get to see a few of the companions from the original Dragon Quest Heroes in action.
Two of the characters that stand out at the top are obviously Maya and Terry, both of whom are readying aerial attacks against the boss monster. Maya, in the first game, was more of a whimsical dance-fighting character while Terry is a bit like a Link-clone from The Legend of Zelda, carrying a sword and shield in hand. Even he character's sword looks awfully similar to Link's Master Sword.
We also see Kiryl returning as the reluctant but steadfast escort for the rambunctious and head-strong Alena. And speaking of Alena, she's there in the promo image kicking a flying monster in the face. It looks like her outfit got a very slight tweak from what it was in the first Dragon Quest Heroes.
As for the other two characters up front... I thought at first it was Isla but it's not her. For sure the big guy on the right with the mo-hawk is Carver from Dragon Quest VI, so they're pairing Terry up with an old partner again.
I'm a little worried about the quality of the game given that it's coming off a previous title just a year before. Again, we don't know how long the sequel has been in development, but annual turnarounds are always scary. Even still, I'm sure Square Enix wanted something big for the 30th anniversary of Dragon Quest so it's not surprising that they're aiming to get something out fast. No date has been set yet for North America and Europe.
Staff Writer at CinemaBlend.
Your Daily Blend of Entertainment News
Thank you for signing up to CinemaBlend. You will receive a verification email shortly.
There was a problem. Please refresh the page and try again.