Dual-Kinect Support Offered In New iPi Soft Middleware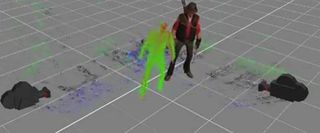 For whatever reason imaginable, if you wanted to use two Xbox Kinects at the same time, it's now possible to do so through iPi Soft's new middleware platform appropriately named the iPi Soft Desktop Motion Capture.
Michael Nikonov, iPi Soft's Founder and Chief Technology Architect, explains in the press release, saying...
A comprehensive demo was put together to briefly demonstrate how the two cameras working in conjunction can render some interesting results. Check it out below.
Additionally, this sort of software tool previously only worked with one PS Eyetoy or Kinect device, limiting the possibilities of how information and motions were captured. However, by enabling software engineers, movie studios and game developers to make use of two Kinect devices working simultaneously to capture motions, movements and gestures fluently, it can easily replace clunky or expensive equipment usually required for such tasks.
I imagine this would be an extremely cost-effective motion capture solution for start-up developers or indie teams who want a nice motion-captured feel to their game but can't afford some of the more higher-end utilities, equipment and middleware licenses.
You can learn more about the iPi Soft Desktop Motion Capture software suite for PCs or check for pricing and availability by paying a visit to the Official Website.
Staff Writer at CinemaBlend.
Your Daily Blend of Entertainment News
Thank you for signing up to CinemaBlend. You will receive a verification email shortly.
There was a problem. Please refresh the page and try again.