E3 2011: Beyond Good And Evil 2 Not Coming This Generation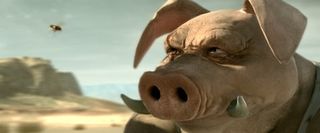 The long-awaited sequel to cult classic Beyond Good and Evil is still a long ways away. Series creator Michel Ancel says that Beyond Good and Evil 2 won't be released until the next round of consoles are on the market.
"It is still alive and we are very far [into] development so we can't go back now," said Ancel at a Ubisoft dinner (via GI.biz. "We are targeting the next generation of consoles."
Ubisoft has been extremely tight-lipped about BG&E2. Other than periodically confirming that it hasn't been cancelled, they haven't been releasing any details. This stealthy approach makes sense if the game's being prepped for next-gen consoles, as the companies making the consoles no doubt want to keep that hardware under wraps for now.
To be fair, the next generation of consoles might not be so far away. Rumor has it that Nintendo will announce a successor to the Wii at their E3 press conference.
Staff Writer at CinemaBlend.
Your Daily Blend of Entertainment News
Thank you for signing up to CinemaBlend. You will receive a verification email shortly.
There was a problem. Please refresh the page and try again.