E3 2011: Jack Tretton Apologizes For PSN Outage, Announces New Partnerships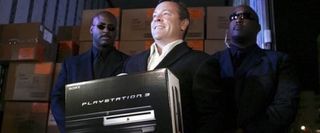 It's too bad that the whole Sony PSN outing took place but for some really odd reason Sony's leading man, Jack Tretton, made it the number one priority at Sony's E3 press conference this year, apologizing for about five minutes and then going on to talk about some new features for PSN.
Amongst the unnecessary apology about PSN getting hacked, Tretton also announced that Cinemanow will be joining the PSN soon, among other companies, offering PS3 gamers even more options for watching movies and digital media on-demand. Sadly, no YouTube specialities were announced.
I don't think the apology was necessary from Mr. Tretton (unless Sony had something to do with their own online system being hacked?) but it's nice to know that there's some goodies in store for PSN users in the near future.
Your Daily Blend of Entertainment News
Staff Writer at CinemaBlend.
Your Daily Blend of Entertainment News
Thank you for signing up to CinemaBlend. You will receive a verification email shortly.
There was a problem. Please refresh the page and try again.