E3 2011: Luigi's Mansion 2 Announced For 3DS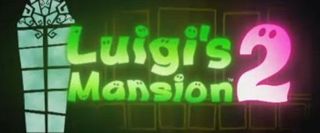 Mario's brother Luigi is getting his own chance to shine on the 3DS. Nintendo revealed Luigi's Mansion 2 for the handheld at their E3 press conference.
As in the original, Luigi will be hunting down ghosts and sucking them up with a vacuum. However, Nintendo of America president Reggie Fils-Aime made a point of saying it's an entirely new game. Luigi will travel to not one but several mansions in his ghost-busting journey.
Fils-Aime didn't mention a release date. It was one of the few games he showed off that he didn't state would be coming out this year. Presumably you'll have to wait until 2012.
Nintendo introduced the game with a short gameplay trailer. Check it out below.
Tags: GameTrailers.com, E3 2011: Debut Trailer (Stream), PC Games, PlayStation 3, Xbox 360
Staff Writer at CinemaBlend.