E3 2011: World Of Warplanes Announced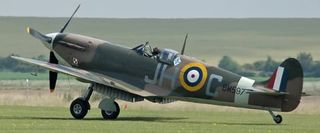 Wargaming.net has another vehicle combat game up their sleeve. The World of Tanks developer announced they're currently working on World Of Warplanes.
World of Warplanes is a team-based, massive multiplayer game dedicated to military airplanes from the 1930's to the 1950's. If World of Tanks is any indication, you'll get a wide variety of historical vehicles to choose from. You can then customize these vehicles' parts in order to suit your playstyle. Participating in battles will gain the player experience, which he can spend on making his vehicle's crew more skilled.
World of Tanks is completely free-to-play. However, you have the option of purchasing gold, the in-game currency, with real money. Gold can be used to buy medkits, ammunition, and other supplies. Again, we just have to assume that Warplanes has the same set-up; the press release doesn't actually say a whole lot about that game.
No word on a release date yet. Wargaming.net didn't provide any sort of images or video yet so it seems this game's might still be in its early stages.
Staff Writer at CinemaBlend.
Your Daily Blend of Entertainment News
Thank you for signing up to CinemaBlend. You will receive a verification email shortly.
There was a problem. Please refresh the page and try again.