E3 2013: A Sony Press Conference Diary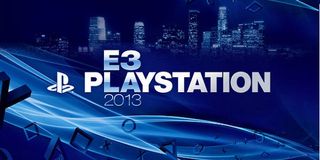 The Sony PlayStation E3 press conference is about to begin and the energy around the Los Angeles Memorial Sports Arena is electric. That's partially because of the free booze, partially because the end of a long day of sitting in auditoriums is in sight, and partially because we're just minutes away from seeing the actual PlayStation 4 console and hearing what it has to offer in the coming years.
With the PlayStation 4 reveal event a few months in the past at this point, Sony began its PS4 press event with a quick refresher on what games were announced back at the original show, as well as a brief look at how some of those games are shaping up nowadays; including Killzone: Shadowfall, Driveclub, inFamous: Second Son and Knack.
There was a bit of attention given to the PS3, which still has quite a few games headed down the pipeline including The Puppeteer, Rain, Beyond: Two Souls, Gran Turismo 6 and The Last of Us, which launches later this week.
What was woefully missing from the press conference, however, was much mention of the PlayStation Vita. Sony's new portable has had a boatload of new titles popping up as of late and the future lineup is pretty dang full. Other than a brief nod to Arkham Origins and The Walking Dead, and a mention that PS3 and PS4 games will feature remote play on the console, however, the Vita was all but ignored tonight. It's a damn shame.
And just like that, the PlayStation 4 has made an appearance. This thing is tiny compared to the PS3 (and especially compared to the behemoth Xbox One) and features a sleek design that reminds me of, well, a tiny skyscraper? Still, it's due out holiday 2013 and Jack Tretton has officially announced a price point of $399. And the crowd goes wild!
As an aside, Tretton also confirmed that the system supports used games (receiving the largest round of cheers I've ever heard at an E3 event), it doesn't need to be connected at all times and it doesn't need to conduct an online check-in. These were some gutsy shots fired directly across the bow of the Xbox One, and the crowd seems to adore Tretton for it.
The system's big cloud features aren't expected out until sometime 2014, surprising no one. To help get you through the wait, however, Tretton has also stated that PlayStation Plus subscriptions will carry over to and include the PlayStation 4. Expect one free PS4 title per month, beginning with the day one addition to the Instant Game Collection, Driveclub: PlayStation Plus Edition.
Games Galore
Much like Microsoft did with the Xbox One, Sony opted to focus the lion's share of its press conference to talking about games.
A bunch of indie titles took center stage for a spell, including Don't Starve, Mercenary Kings and the highly anticipated Transistor, from the team that made Bastion.
After making some of the best PSP games to date, Ready at Dawn has moved on to PS4 production with its first console offering, The Order: 1886. There was also a funny and somewhat confusing reveal for The Dark Sorcerer, along with The Elder Scrolls Online and yet another impressive look at Watch_Dogs.
Finally, and no pun intended, came Square-Enix's reveals for both Final Fantasy XV (Formerly Versus Final Fantasy XIII, if I understand correctly) and an ever-so-brief tease for Kingdom Hearts III.
A new console with all sorts of new multimedia applications, cloud and social/sharing integration? Check. A respectable price point? Check. A boatload of games from a wide variety of genres? Check.
Now if only there was a way to freeze ourselves until the winter, when all of this next gen gaming goodness will finally be arriving.
Staff Writer for CinemaBlend.
Your Daily Blend of Entertainment News
Thank you for signing up to CinemaBlend. You will receive a verification email shortly.
There was a problem. Please refresh the page and try again.