Earn Double XP In Call Of Duty: Modern Warfare 3 With Mountain Dew Purchase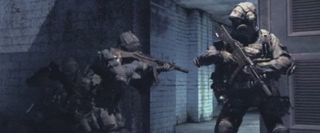 The promotions just don't ever seem to end when it comes to Call of Duty. In what might be considered as a sensible marriage of brands, Mountain Dew and Call of Duty are teaming up to provide gamers with a chance to earn additional XP when gamers purchase Mountain Dew.
As stated in the press notice…
So there you go. If you buy Mountain Dew you'll have a chance to earn extra XP when playing Call of Duty: Modern Warfare 3. I'm sure die-hard fans will think of this as being uber-cool considering that most core gamers probably already drink Mountain Dew and now you'll be receiving in-game benefits for doing so, starting this fall.
The new Mountain Dew Game Fuel will also be on store shelves just in time for the launch of Call of Duty: Modern Warfare 3, when it hits store shelves on November 8th.
Need to learn more? Probably not, because there's not much else to learn but you can visit the Official Website anyway.
Your Daily Blend of Entertainment News
Staff Writer at CinemaBlend.