Elder Scrolls Online Rated M By ESRB, Bethesda Disagrees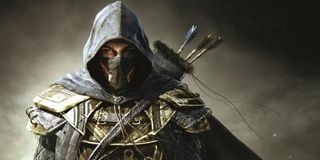 The Entertainment Software Rating Board has designated Elder Scrolls Online as a Mature game. Bethesda isn't too happy about it.
"The ESRB advised us that it has given The Elder Scrolls Online a Mature rating," the company wrote on the official ESO Facebook page. "While we may disagree with the ESRB's determination, we do not plan to challenge the rating, and we are unwilling to change the game's content to achieve a different rating. The game we have created is the one we want our fans to be able to play."
"M"-rated games are intended for players who are 17 or older. They can contain blood and gore, sexual content, strong language, and "intense" violence. The ESRB hasn't published their rating of ESO to the public yet so we can't be sure what exactly led them to dole out the Mature rating.
It's not all that surprising that ESO is an "M" game. The single-player Elder Scrolls games Skyrim and Morrowind were both rated Mature as well. Bethesda and the developers at ZeniMax Online Studios have been trying to make ESO feel like its single-player brethren so a comparable amount of blood and alcohol is expected.
Still, I'll wager Bethesda was hoping for a Teen rating. When you're launching an MMO with a mandatory monthly subscription, you want the game to be open to as many players as possible. What's more, rival MMO's like World of Warcraft, Guild Wars 2 and Star Wars: The Old Republic are all rated "T."
That being said, there are plenty of teenage gamers who can convince their parents to buy M-rated games. I mean, the game's called Elder Scrolls Online. The name sounds like an archeology simulator, not a hack-and-slash multiplayer game. I think a lot of parents would buy it for their kids without batting an eye.
To fit with this new ESRB rating, ZeniMax is now adding age gates to their trailers and web sites. From this day forth, everyone's birthday is January 1st, 1980.
Elder Scrolls Online will debut on the PC and Mac in April. The Xbox One and PS4 launch will follow in June. In the meantime, the developers are hosting periodic beta tests.
Image 1 of 3