Elder Scrolls Online Beta Returns Today, NDA Still In Effect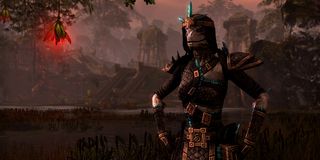 ZeniMax Online Studios will be holding another weekend beta for Elder Scrolls Online. The servers for the test will be launching in a matter of hours.
During the beta, players can create a character from one of the game's three alliances. After some introductory quests, they'll be able to explore dungeons or participate in large-scale PvP in Cyrodiil. The last beta weekend had a level cap of 17 but there's no mention of a cap this time around.
Players who participated in past beta tests don't need to redeem the beta key they were sent this week. They just have to log in and download the latest patch. If you received a beta key in the past and never used it, redeem the new key. Unused codes from previous events no longer work.
Not all players who registered to test ESO will get into the beta. However, ZeniMax pledges to keep expanding the tests as they approach the game's April launch.
"The beta is getting bigger as launch approaches, and we can't wait to see everyone's feedback," ZeniMax said on the ESO blog. "If you don't receive your invite today, don't worry—you'll have more chances to explore Tamriel before launch. When we send out invites, we post here and on Facebook, Twitter, and Google+, so follow us on your favorite site to make sure you don't miss an announcement."
This weekend's test will kick off at 6PM EST today. It should wrap up on Sunday at 11:59PM EST.
Elder Scrolls Online beta testers must adhere to a non-disclosure agreement. That means that you're unable to publicly discuss any details of the game. You also can't take screenshots or record gameplay footage; your account information is watermarked on the screen to prevent that sort of thing. If you violate the NDA, ZeniMax would probably take away your beta access at the very least.
Testers with feedback on the game are encouraged to use the private beta forum. The forum is only accessible by testers and developers. You'll have to use your game account to log in.
ZeniMax will launch ESO on PC and Mac on April 4th. The PS4 and Xbox One release will happen sometime in June. As I said earlier this week, though, the console launch will probably get pushed back further if the PC/Mac release doesn't go smoothly.
Image 1 of 6
Image 2 of 6
Image 3 of 6
Image 4 of 6
Image 5 of 6
Image 6 of 6
Staff Writer at CinemaBlend.
Your Daily Blend of Entertainment News
Thank you for signing up to CinemaBlend. You will receive a verification email shortly.
There was a problem. Please refresh the page and try again.