These Elders' Reactions To Playing Grand Theft Auto V Are Absolutely Hilarious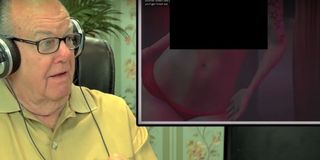 Grand Theft Auto V has been widely known for its grotesque translation of city life involving gangs, strippers, drugs and car theft. But gamers have come to know the franchise as one of the most entertaining free-for-alls in the third-person action-adventure genre. When a group of elders were given the opportunity to play Grand Theft Auto V, they rolled with the punches, but were left with some very perplexed and stunned reactions.
The video starts the group of elders off with getting a tattoo at one of the in-game tattoo parlors. After hearing an explicit comment from a passerby on his way to the tattoo parlor, one of the participants laughs and says, "This is too much like real L.A." The tattoo process itself isn't even what the elders were expecting, seeing that some of the older women blushed when their male character dressed down to his underwear. One woman did mention she expected the tattoo process to be more in-depth rather than clicking and sticking. But getting a tattoo wasn't even the best part of the video.
The next part of the reaction test took place at a local strip club. Hilariously, one of the men mistakenly called one strip club, "Happy Girls," but then realized the name of the establishment was actually "H-rny Girls." Many of the participants felt uncomfortable in the strip club as if they were participating in real life. You could see some of them looked really ashamed and others even covered their eyes for some moments.
When one of the strippers asked if they wanted a private dance, many turned it down. One of the elderly women even said she was leaving and that she'd had enough. But a couple others accepted the request for a dance and followed the stripper to a private room. As the stripper took off her top and exposed her bare breasts, one elderly man was getting palpably heated while another said, "These graphics are very realistic."
When I played Grand Theft Auto V and entered the strip club, I always made it rain money and always called for women to give me lapdances. And what the elderly group doesn't realize is you can actually have these women come to meet you at your own house or apartment and give you private dances. I wonder what they would've said about that?
Despite Grand Theft Auto V being a pretty violent game, those who were raised in a time without violent video gaming seem to be handling it pretty well. You'll want to check out the entire video with the elderly group's reactions below.
The channel that displays the video, REACT, does a series of videos that capture the reactions of kids, teens, adults and the elderly when playing everything from retro games to today's games. If you want to see more of their videos, you can check out their YouTube Channel.
Your Daily Blend of Entertainment News