GTA 5 Pulled From More Stores, Take-Two Responds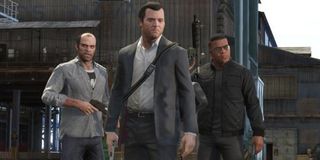 Target isn't the only retailer in Australia refusing to sell Grand Theft Auto V. A day after the chain decided to take the game off their shelves, Kmart is doing the same.
"Following a significant review of all content in Grand Theft Auto games, Kmart has taken the decision to remove this product immediately," a company rep told Kotaku AU. "Kmart apologises for not being closer to the content of this game."
An anonymous source at the chain then reached out to Kotaku to say that Kmart Australia's decision extends beyond GTA 5. GTA 4 and its expansions are also being pulled, the source says. While Kmart hasn't specifically announced such, their statement from their rep does seem to indicate that they don't want anything to do with the entire Grand Theft Auto franchise.
As Kotaku notes, Kmart and Target's Australian stores are both owned by the company Wesfarmers. It's not that surprising, then, that a policy decision in one chain would be seconded by another.
Take-Two Interactive, parent company of GTA creators Rockstar Games, expressed disappointment in Target's decision to stop selling GTA 5:
"We are disappointed that an Australian retailer has chosen no longer to sell Grand Theft Auto 5 – a title that has won extraordinary critical acclaim and has been enjoyed by tens of millions of consumers around the world," said Take-Two CEO Strauss Zelnick.
"Grand Theft Auto 5 explores mature themes and content similar to those found in many other popular and groundbreaking entertainment properties. Interactive entertainment is today's most compelling art form and shares the same creative freedom as books, television, and movies. I stand behind our products, the people who create them, and the consumers who play them."
Target Australia removed GTA 5 from its 300 stores following an online petition that argued the game promoted violence against women. The petition has been signed over 46,000 times since it was created on November 29th.
"It is fuelling [sic] the epidemic of violence experienced by so many girls and women in Australia - and globally," the petition says. "Target, you pride yourself on being a family company, caring for local communities, and have a strong ethical sourcing policy. How can you do this while contributing to hostile and callous attitudes toward victims of violence and, more broadly, to all women?"
Now that they've convinced Target to drop GTA 5, the petition writers hope that they'll be able to convince other stores in the country to follow suit.
"You've helped send a message to family retailers and brands that their consumers have had enough, and they've started listening," the creators said in a petition update published Thursday. "We're now asking outlets like Big W and Woolworths whether they're going to stand up against Grand Theft Auto's violence against women as well. "
Staff Writer at CinemaBlend.
Your Daily Blend of Entertainment News
Thank you for signing up to CinemaBlend. You will receive a verification email shortly.
There was a problem. Please refresh the page and try again.