F1 2015 Announced For PS4, Xbox One, PC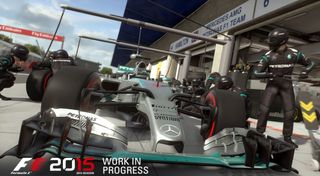 Codemasters is back with another Formula One racing title for 2015. It's appropriately named F1 2015. The latest game in the annual series will be launching for Sony's PlayStation 4, Microsoft's Xbox One and on Steam for PC.
All Games Beta spotted the news from the Codemasters blog where the news began rapidly spreading throughout the gaming community.
Paul Jeal, the game director at Codemasters for the F1 racing series, commented in the press release about the new title, saying...
That's pretty good news. Codemasters has really doubled down on the racing genre after they abandoned shooter games and other miscellaneous titles. They realized that their bread and butter was in racing games and they've worked hard to elevate their game when it comes to interactive motorsports.
This summer is actually shaping up to be a fairly large launch window for some top-end games. F1 2015 will be joined by the Xbox 360 and PS3 release of Mortal Kombat X, as well as the launch of the highly anticipated Rocksteady superhero game Batman: Arkham Knight.
However, the summer is mostly clear of any other big racing game releases, and Project CARS – arguably, F1 2015's biggest competition on both home consoles and PC – is due for release this May, an entire month before Codemasters makes their game available.
Of course, just releasing a game on the eighth-gen consoles and hoping that racing fans will show up isn't enough. There needs to be a show of improvement for the series to bring back old fans and attract new legions alike. Jeal actually addresses the concerns of new features, stating in the press release...
That sounds very promising. Physics are always the most difficult part of the racing experience for gamers, especially making sure that the game is well adjusted for the steering wheels but is also adaptable for gamers playing with controllers. For a while, Project CARS had a bit of difficulty going from the racing wheel setup to the DualShock 4s, but Slightly Mad Studios managed to iron out the kinks. So we'll see if Codemasters will be able to match the physics of Project CARS (or raise them a level of realism) with F1 2015, which is due for release this June.
You can learn more about the game by paying a visit to the official website.
Staff Writer at CinemaBlend.
Your Daily Blend of Entertainment News
Thank you for signing up to CinemaBlend. You will receive a verification email shortly.
There was a problem. Please refresh the page and try again.