FEAR Online Is Free-To-Play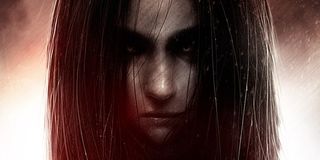 The horror shooter series F.E.A.R. will be continuing in free-to-play form. F.E.A.R. Online is currently in development at Seoul-based studio Inplay Interactive.
"We are thrilled to present the next entry in one of the most popular horror franchises of the last decade," said Tom Nichols, Vice President of PC Games at publisher Aeria Games. "F.E.A.R. Online will bring back the tense, heart-pounding action that the series is known for and make it accessible to a huge online community of competitive players."
F.E.A.R. Online allows players to shoot each other on ten maps. Each location is loaded with gory touches like messages written in blood and twitching corpses on meat hooks. The official website mentions that the game will support Team Deathmatch as well as a "Search and Destroy" game type. They don't mention what exactly the latter entails.
The game will also bring back F.E.A.R. 3's popular Soul Kings mode. In a Soul Kings match, every player is a ghost capable of possessing A.I. enemies. The player racks up souls by killing opponents while in a possessed body. The player that currently possessed the most souls is called the Soul King. This person essentially has a bull's eye on his back: he has a glowing outline so he's more visible to opponents and will lose half his souls if he dies.
Because it's a multiplayer-focused game, F.E.A.R. Online doesn't have a single-player campaign. However, it does offer a story-based Scenario Mode. In these four player co-op missions, players will face off against both monsters and Armacham soldiers. The missions are said to be a parallel narrative to the events of F.E.A.R. 2: Project Origin. Alma Wade, the creepy psychic girl at the heart of the series' plot,
Previous F.E.A.R. games were created by Day 1 Studios and Monolith Productions. It doesn't seem as though either company is contributing to this project, though. Considering how little the series has progressed since the stellar first game, though, it's not a bad idea to have a new developer tackle F.E.A.R. Online. On paper the game sounds like a free-to-play offering of more of the same but perhaps the new team will be able to put their own stamp on the series as well.
Aeria Games is currently accepting closed beta applications for the game here. No word yet on when the testing will begin.
Staff Writer at CinemaBlend.
Your Daily Blend of Entertainment News
Thank you for signing up to CinemaBlend. You will receive a verification email shortly.
There was a problem. Please refresh the page and try again.