Fallout 4: The Full List Of Names Codsworth Can Say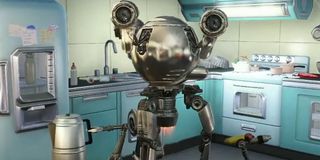 When you typed in your character's name in Fallout 4, you probably didn't expect to hear anyone say it out loud. However, robot butler Codsworth is able to say over 900 possible names.
The list covers a lot of very basic names like Michael and Amanda. However, Codsworth can also say tons of names prominent from pop culture such as Katniss, Chappy, Mulder, Scully, and Django. If you want to name your character after Dishonored hero Corvo, Codsworth will gladly say that name as well. Furiosa and Imperator seem like natural picks for any female wasteland dweller.
It sounds like Bethesda has some anime fans on staff as well. Battosai, Kenshin, Akira, Kaneda, Tesuo, and Shinji are among the names Codsworth is programmed to say.
Bethesda also anticipated players picking more explicit names. Codsworth will say Assface, Bastard, Boob, Boobie, Boobies, Fuck, Fucker, Fuckface, Tit, Tittie, and Titties. Unfortunately, my choice of name - Jerkface - didn't make the cut.
Gamespot noticed shoutouts to the board of directors to ZeniMax, parent company of Bethesda. The list of names includes Ripken (Cal Ripken Jr.), Bruckheimer (Jerry Bruckheimer) and Altman (Robert Altman). I have trouble believing that even Jerry Bruckheimer would pick his last name for his character but he'll be rewarded by the game for doing so.
There are some strange omissions, though. Barbara, Lisa and Simon are nowhere to be found on the list. I'm also shocked that Bethesda didn't load up the list with Skyrim references like Dragonborn or Talos. Some easy Fallout references are also missing. I really expected to see Cassidy on there.
Fallout 4 launched worldwide yesterday on PS4, Xbox One and PC. The game lets players explore the Commonwealth, the post-apocalyptic remains of the Boston area. They'll battle mutants, bandits, robots and other dangers. In a first for the series, they can also create settlements with custom buildings and defenses. Codsworth is one of several companions you can recruit during your adventures through the massive open-world game.
This poll is no longer available.
Your Daily Blend of Entertainment News
Staff Writer at CinemaBlend.
Your Daily Blend of Entertainment News
Thank you for signing up to CinemaBlend. You will receive a verification email shortly.
There was a problem. Please refresh the page and try again.