Fallout 4 Resolution And Frame-Rate Revealed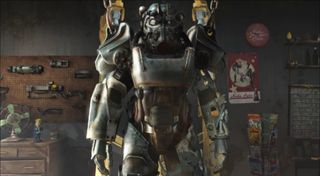 After Bethesda unveiled Fallout 4's gameplay and features on the grand stage of E3 during their exciting and action packed press conference, a lot of gamers were curious about the specs. How well would it run on the Xbox One and PS4 and what would the resolution to frame-rate ratio be like? Well, it's been revealed as 1080p at 30fps.
According to Digital Spy, the digital outlet managed to get in a word with game director Todd Howard who briefly covered what gamers would be able to expect from the upcoming open-world, action-RPG. When asked about the specs for the game running on home consoles, Howard simply stated that "It is 1080p on everything".
He shot down any rumors about the game running at 60 frames per second, and verified that mods for the consoles was still on the table.
A lot of gamers were probably curious about the frame-rate for Fallout 4 because it was tough to gauge from the gameplay reveal during the E3 press conference.
Additionally, if they were going for 60fps it's likely that they would have probably scaled the game back to 900p on the PS4 and 720p on the Xbox One. However, with a game like Fallout 4 the fast frame-rate isn't quite as essential given that the game isn't really that much of a twitch shooter and more time is spent exploring and adventuring than attempting to out-draw someone with a weapon.
The 1080p aim makes sense because in a game about exploration and soaking in massive vistas – no matter how torn up and rundown they are from a post-nuclear apocalypse – you want to make sure that people are seeing the game as clearly and smoothly as possible.
Doom on the other hand... that's a game that definitely needs to hit that 60fps mark at all costs. It's a fast and fringe shooter that requires timing, reflexes and break-neck speed instincts to survive. Trying to pull out a game like that at only 30fps would kill a lot of the game's momentum, action and the frantic pace that the original Doom games were once known for.
But in addition to frame-rate and resolution, Fallout 4's modding is another highly talked about topic and Todd Howard has confirmed that they'll be working with Microsoft to ensure that modding for the PC version will be first out of the gate and by early 2016 they would like to have the infrastructure in place to allow gamers to import and download mods to the Xbox One.
Sony hasn't confirmed if they'll allow for mods on the PS4 but Howard is already planning to unleash the feature on the PS4 once Sony says yes and then console gamers will be able to enjoy a lot of the hard work that PC modders will churn out.
Additionally, the mods on PC, Xbox One and PS4 will not be paid mods. There will be no pay-wall for Fallout 4 mods. This is definitely a proper move coming off the Steam paid mod debacle.
Fallout 4 is due for release this holiday season for the Xbox One, PS4 and PC.
Your Daily Blend of Entertainment News
Staff Writer at CinemaBlend.
Your Daily Blend of Entertainment News
Thank you for signing up to CinemaBlend. You will receive a verification email shortly.
There was a problem. Please refresh the page and try again.