Far Cry 4 DLC Features Yetis, Prison Break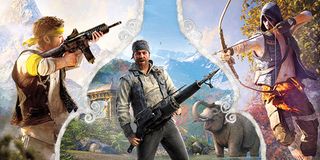 Ubisoft confirmed today that Far Cry 4 will be getting multiple DLC packs following its launch. These add-ons will add both multiplayer and single-player content to the open-world shooter.
The DLC can be purchased in bulk with a Season Pass or one at a time. The Season Pass is $29.99, which Ubisoft says will be 20% cheaper than buying all of the DLC packs individually. Ubisoft didn't mention the prices for individual add-ons today, though.
The first of these DLC packs will be available on day one. "The Syringe" is a new mission exclusively for players who buy the Season Pass. In this single-player or co-op adventure, players have to stop Pagan Min from getting his hands on a rare disease.
This mission will be eventually be followed by another called "Escape from Durgesh Prison." As the title suggests, this mission revolves around a prison break. One or two players must fight their way out of Yuma's prison.
Players hoping to kill each other will be able to play Overrun, a new competitive mode. In this game type, teams battle for control of a series of points across the countryside.
Perhaps the most intriguing DLC pack planned, though, is "Valley of the Yetis." Ajay crash-lands in the Himalayas and finds himself besieged by a mysterious cult and yetis. He can set up a camp in the mountains and upgrade it with materials he finds throughout the frozen terrain. Presumably these upgrades will make the camp easier to defend from the night-time raids by cultists.
The last bit of announced DLC is the Hurk Deluxe Pack. This is a compilation of the missions offered as pre-order bonuses. "Blood Ruby" sends players into Pagan Min's mine to steal a rare gemstone. The mission "Yak Farm" allows players to earn a double-barrel elephant rifle. The other three missions focus on co-op partner Hurk. Here's the official description of those missions from Ubisoft:
Mission 1: Fight dangerous enemies in the ice caves of snow-capped mountains to retrieve a rare artifact.
Mission 2: Fight waves of enemies while riding an unusual vehicle with Hurk by your side.
Mission 3: In this epic bro-tastic conclusion, chase down an enemy convoy and save Hurk from certain death.
These Hurk missions give players the opportunity to wield the Harpoon gun. This weapon, originally intended to hunt whales, can skewer enemies with metal stakes.
UbiBlog says that retailers are now accepting pre-orders for the Gold Edition of Far Cry 4 on PC and PlayStation platforms. This $89.99 edition includes the game and the Season Pass. Xbox pre-orders for the Gold Edition will be opened soon.
Your Daily Blend of Entertainment News
Staff Writer at CinemaBlend.