Fatal Frame II, Japanese PSone Games Hit PSN Tomorrow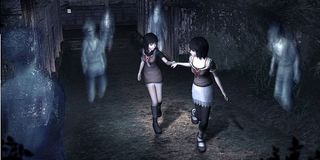 Fatal Frame II is the standout title in what could be the lightest release week on the PlayStation Network this entire year, offering thrills and chills in a last-gen horror classic.
I think it's fair to say that 2013 has seen an embarrassment of riches in the "new games" department. From day one digital releases to loads of downloadable titles, it seems like every week has been overstuffed with content for gamers to plow through. That being the case, it's hard to get upset about the fact that this week's list of new offerings on the PlayStation network are so slim.
Last week we announced that Fatal Frame II would be joining the recently released Fatal Frame as a PlayStation 2 Classic, giving fans of survival horror even more creepy goodness to keep them up at night. It'll be available to play starting tomorrow, once the PSN update goes live. This time around, players will be faced with a deeper story, intended to keep even the scardiest of cats hooked until the game's conclusion.
The only other full games being released this week are a collection of PSone imports. Two games from the Zero Kara No Mahjong Mahjong series will be available, including Tamago-Gumi and Tamago-Gumi 2: Taikai E Ikeo!. If you know how to play mahjong, the language barrier on these bad boys shouldn't be too steep to overcome. Finally, there's Motto Trump Shiyouuo. It's a collection of games and mini-games, including the likes of seven bridge, poker, free cell and speed.
If none of that interests you, then maybe you'll want to give the Fuse demo a try. From the folks at Insomniac Studios, this four-player co-op shooter offers crazy guns and even crazier powers in a first-person shooter where teamwork means the difference between victory and defeat.
Look for these games, along with the usual dose of videos, DLC and various other bits of media, when the PlayStation Store updates Tuesday afternoon.
Your Daily Blend of Entertainment News
Staff Writer for CinemaBlend.