Final Fantasy X-3 Is Possible, Square Enix Says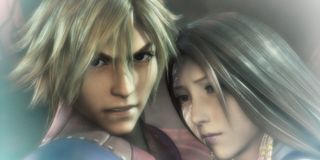 Final Fantasy X could become a trilogy. Writer Kazushige Nojima said in a new interview that Square Enix is open to making Final Fantasy X-3.
"If there's enough demand, then we may possibly see new developments," Nojima said in the newly published Final Fantasy X/X-2 HD Remaster's Ultimania book according to FF-Reunion.net's Aibo_AC7 (via Siliconera). "I would personally like to see a sequel like X-3."
FFX and FFX-2 were set in the fantasy world of Spira. In FFX, a blitzball player named Tidus and his companions hunt an enormous sea monster known as Sin. Tidus goes missing at the conclusion of the game and FFX-2, the first direct sequel in the series, centered around Yuna's search for him. The first two games don't appear to have been designed with a third installment in mind but I'm sure Nojima has a few ideas on how to continue the series.
Nojima didn't clarify what sort of "demand" Square Enix was looking for. Should fans start a petition, like PC gamers did for Dark Souls? Launch a Facebook campaign? Leave a lot of angry forum comments?
While those actions might help, I'm guessing sales of Final Fantasy X/X-2 HD Remaster, the high-def remakes of the first two games, is the real "demand" that Square Enix is measuring. Publishers can ignore a social media campaign or a stack of emails. They're less likely to overlook a stack of money. If they think Final Fantasy X-3 will make a ton of cash, they're going to greenlight the project.
Or maybe they won't. Square Enix, after all, is the company that's been teasing Final Fantasy 7 HD since 2005. The promise of easy profits isn't the only reason that games get made. Even if Final Fantasy X/X-2 HD Remaster sells really well, X-3 is far from a sure thing.
Final Fantasy X/X-2 HD Remaster debuted in Japan on the PS3 and PlayStation Vita on December 26th. North America, Europe and Australia will receive the games in March. The two remakes are bundled together on PS3, while Vita users can purchase them separately.
Image 1 of 9
Your Daily Blend of Entertainment News
Staff Writer at CinemaBlend.
Your Daily Blend of Entertainment News
Thank you for signing up to CinemaBlend. You will receive a verification email shortly.
There was a problem. Please refresh the page and try again.